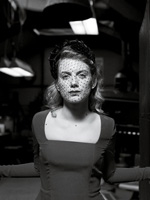 As I like to do when Kris boldly throws out a set of winner predictions, I thought I'd follow up with an indication of which way our readers are leaning — as well as an update of my own previous guesses.
The conclusion: well, what a difference seven weeks makes. Of course, it's inevitable that things would go topsy-turvy in this of all months, when multiple question marks have been answered — some becoming unexpectedly insistent exclamation marks in the process.
Still, I'm surprised by how dramatically my own picks have shifted, largely due to my overestimation of "Precious"'s pop-culture sway, and my misplaced hunch that "Avatar" would disappoint. (Well, it disappointed me, but that's hardly the deal-breaker I'd like it to be.) Today, I'm not even predicting a nomination for the man I (rather rashly) backed to win Best Director last month … such is the fickle nature of the game.
Collectively, you guys have stuck to your guns a little more than Kris and I have — most of you (probably sensibly) never shared our belief in "Precious" anyway — though "Avatar" fever has inevitably struck.
The majority of your predictions following Kris's post yesterday align with his for the most part, though you're evenly split on George Clooney and Jeff Bridges for Best Actor, while the few of you who ventured into below-the-line categories came up with narrowly differing leaders in Best Cinematography ("The Hurt Locker"), Makeup ("Star Trek") and Original Score ("Up"). Still none of you are considering a foreign-language champ other than "The White Ribbon" or "A Prophet," slightly favoring the latter.
For my part, I'm resisting the "Avatar" hype — partly, perhaps, because the prospect of a victory for Cameron's film gives me even less pleasure than the "Precious" sweep I once foresaw, but mainly because I think the new preferential voting system for Best Picture could play havoc with conventional wisdom. With that in mind (and with humble apologies to Tom O'Neil), here are my picks. For now.
Best Picture: "Inglourious Basterds"
Best Director: Kathryn Bigelow, "The Hurt Locker"
Best Actor: Jeff Bridges, "Crazy Heart"
Best Actress: Carey Mulligan, "An Education"
Best Supporting Actor: Christoph Waltz, "Inglourious Basterds"
Best Supporting Actress: Mo'Nique, "Precious"
Best Adapted Screenplay: "Up in the Air"
Best Original Screenplay: "Inglourious Basterds"
Best Art Direction: "Inglourious Basterds"
Best Cinematography: "The Hurt Locker"
Best Costume Design: "Bright Star"
Best Film Editing: "The Hurt Locker"
Best Makeup: "District 9"
Best Music (Original Score): "Up"
Best Music (Original Song): "The Weary Kind" from "Crazy Heart"
Best Sound Editing: "Avatar"
Best Sound Mixing: "Avatar"
Best Visual Effects: "Avatar"
Best Animated Feature Film: "Up"
Best Foreign Language Film: "Letters to Father Jacob"
Best Documentary Feature: "Mugabe and the White African"