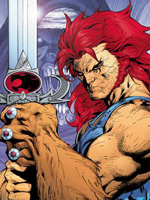 Random, I know.  But allow my inner 6-year-old to have a moment here.
I guess there was a report somewhere over the holiday about how Warner Bros. had scrapped plans to film a live action "Thundercats" movie.  As a child of the 1980s, and speaking as a guy who may have had more He-Man action figures than Thundercats, but still liked the adventures of Third Earth a bit more than those of Eternia, I have to say, I'd love to see it happen.  I've just never had my hopes up.
But remember when the "Avatar" trailer first hit and everyone was saying the Na'vi looked like blue Thundercats?  It was obviously used as a pejorative at the time, but it didn't click for me that, hey, you know what — we could do this now.
Let's be real.  No one is going to spend "Avatar" money on a Thundercats film, and "Avatar" money is what you need to make it work.  But if the effects were as refined as they were on James Cameron's epic, then I have to say, I'd be pretty stoked.
In a post over at io9, Meredith Woerner lays out the obvious:
So why get all gunshy over another alien features that not only has a bankable pre-existing audience, but more awesome cat people? Plus the merchandising alone has got to be making someone at Warner Brothers hungry. Hollywood, we urge you, this is one of the classic properties we want made into a film, we don't need a Labyrinth remake or another Neverending Story, just one good Thundercats film.
Oh, and in case you missed that bad, ,but certainly dedicated faux trailer from a while back:
Alright, back to the awards race…