Oscar ballots are being mailed to AMPAS members today.  So now is the time to pay attention to the buzz, as most ballots are returned within the first couple of weeks (which says everything you need to know about how much time and care is put into the process by voters).
However, it's somewhat amazing to me that not much has shifted in the scheme of things since the last proper Off the Carpet column.  Of course, there is "Avatar" (which I'll get to in a second), but otherwise there are just a bunch of non-issues rearing their heads (like "Michael Jackson's This Is It" being in the conversation, for instance, or the perpetuated Mo'Nique/bad press angle).  Chalk it up to boredom.
The only significant note is "Nine"'s box office whiff, which accompanied an entirely dismissive response from critics and has left many wondering whether it will be able to push through into the 10.  Passion is still necessary, despite the wider net, and it's becoming more evident than ever that getting voters to check the film off as a #1-3 choice is going to be a chore.
The most appreciated aspects, of course, are the below-the-line achievements (which I still think could be enough to get it across) and Marion Cotillard's "why-the-heck-have-they-been-campaigning-for-lead?" performance.  Rightly so.  Maybe The Weinstein Company can switch gears like Fox Searchlight did with Maggie Gyllenhaal and find one more nod in the major categories.
Speaking of "Crazy Heart," has anyone noticed the top critics giving it a rather solid thumbs up?  And if nuance is what you need, it currently sits at an 84 on Metacritic with a pair of heavy-hitting 100 scores from A.O. Scott and Roger Ebert.  I think it's about time to get a little serious about the film as a sleeper awards possibility and not take the easy (rather hasty) road by writing it off as a "performance" thing.
Patrick Goldstein was shrewd enough to point writer/director Scott Cooper's achievement out as one unfairly disregarded in a recent column, and I guess I'm just happy someone else gets it.  When you've got dwindling contenders like "Nine" clinging for dear life, the race is ripe for the taking.
But, of course, you've heard all this before.
From my perch, and obviously I'm not alone on this front, James Cameron's "Avatar" has taken the poll position on this race and is looking likely to nab the Best Picture prize, against…all…possible…odds.  I know many will thumb their nose at that notion and fight against the grain, and God love you for it.  "Up in the Air" is very much in the hunt and "The Hurt Locker," if the afterburner switch is ever located, has the potential to get there, too.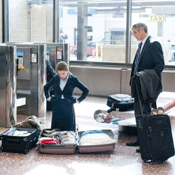 But is Summit going to spend the considerable extra money necessary to grab a designation that won't mean much, to steal a phrase from Mo'Nique, "financially?"  Or will the prestige the film has already secured be enough?  Would you spend a dollar to (maybe) make a dollar?  Despite a modest re-release, there's no real box office bump to be had here.  And DVD sales will be what they'll be.
Meanwhile, are Oscar prospects for "Up in the Air" really such a priority for Paramount, a studio that quietly stalled a holiday wide release for "The Lovely Bones" in favor of a January wide bow in order to maximize box office potential when the film failed to catch on commercially (which was always goal #1)?  I'm not so sure anymore.  These things need to make money first.
Indeed, there was a time I thought "Precious" would take the prize, but as so many have noted then and since, the film peaked too early and doesn't look likely to grab a second wind.  Or will one of the billion things Oscar's gossip monger threw at the wall actually stick?  You know I'm skeptical.
So, yeah, "Avatar" is the one to beat.  Whether it can hold on to that position or not, that's anyone's guess.  But no one will be able to compete with this combination of critical approval, box office brawn and industry significance.  Let's call it what it is.
The only race that is really interesting to me at this point, as in, the only race that doesn't have a "one to beat" frontrunner, is the Best Supporting Actor category.  There are so many dynamics flying around it's a bit dizzying.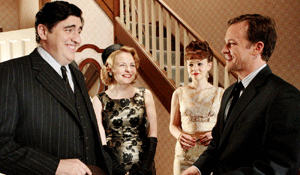 Is Christopher Plummer in a position to capitalize on the clearest case for sentiment this season or is "The Last Station" a bit of a fizzler that won't resonate enough to warrant it?  Will Stanley Tucci be singled out as the best part of the ill-regarded "The Lovely Bones" and, in tandem with good will for an equally wonderful turn in "Julie & Julia," coast on to his own overdue recognition?  (Better yet, will voters side with his performance in the latter?)
And talk about sentiment, what about Woody Harrelson, who's been haunting this season from the outset with a performance in "The Messenger" that could be enough to get people to actually watch the film and, perhaps, help usher it to a surprising Best Picture nomination?  Or is it all just moot and voters will just single out Christoph Waltz as their chance to give a big prize to Quentin Tarantino's "Inglourious Basterds" (and one even detractors would have a tough time arguing with)?
Then there is that fifth slot, which, excuse me, I just don't think is going to go Matt Damon's way.  It'll be entirely depressing if it does happen, I have to say.  But then I can't help but think Alfred Molina is waiting to surprise everyone (as someone does every year) with a nomination for "An Education" without major precursor attention.  (Or could Peter Sarsgaard actually pull that trick himself?)
So many variables in that field.  I'll relish watching it unfold.
Anyway, the sidebar predictions have finally been updated once again and you can check out each field in depth at our Contenders page.  Next week it'll be 2010.  Can you believe that?