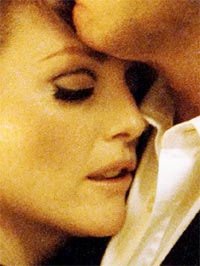 The year of the woman. The year of animation. The year of science-fiction. Depending on who you read (and believe), the final year of the decade has been an awful lot of things.
If you're with Kris, it's also the best cinematic year of the last ten. If you're with an awful lot of others, it's quite the opposite. I'll stop short of rewriting the first page of "A Tale of Two Cities," but suffice to say it's been different things to different people.
What kind of year has it been for me? I think I'll need another year to figure that out in detail. But as I compiled the list you're about to read, I happily concluded that it's been, at the very least, a good one: the 25 titles gathered here were jotted down with minimal brain-racking, with still more fighting from the sidelines.
None of them are grudging inclusions, either: I sincerely liked most of these titles too much to allow room for popular or critical phenomena that are worthy of respect, but nonetheless didn't connect with me personally. There was a sufficient range of quality work in 2009 (following a lean 2008) that any film lover could afford to construct his own playlist of future treasures without resorting to consensus.
Before we begin, a note on the construction of the list. In addition to my Top 10, there are 15 honorable mentions here, five of them singled out for extra consideration. Some of you will quibble that I opt to include international or festival releases that have yet to surface in the U.S.
I decided that the list should be a reflection of the year I had at the movies; keeping up with the discrepancies between European and American release patterns (which caused a film like "Summer Hours" to pop up on my list last year) is altogether too confusing. Allowing for the odd film that fell between the cracks in the festival transition last year, what follows are the 25 best new films I saw in 2009 … simple as that.
To please everyone, however, a modified list of my favorite U.S. releases of the year is at the end. Now, let's go.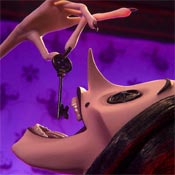 Honorable mentions (in alphabetical order):
"THE BEACHES OF AGNES"
18 years after "Jacquot de Nantes," her tender tribute to the life and work of her late husband Jacques Demy, New Wave vet Agnès Varda bookends that film with a living elegy for her own career, and it's no less sweet.
"CORALINE"
Channeling Carroll, and outdoing recent peers like "Pan's Labyrinth," as an investigation of the dangers lurking in a child's own imagination, Henry Selick's cheerfully weird take on Neil Gaiman was the pinnacle of a prolific year for American animation.
"DISTRICT 9"
The resurgence of smart, crossover sci-fi was one of 2009's most notable narratives – and no filmmaker did it with more storytelling aplomb than first-time helmer Neill Blomkamp. All jagged edges and dusty hues, my hometown of Johannesburg has rarely been so well served on screen .
"DOGTOOTH"
The von Triers, Mendozas and Noés may have filled the media shock-horror quota at Cannes this year, but no 2009 title was more calmly, confidently strange than this striking Greek fable, a stealthily disturbing, grimly deadpan manual on how not to parent.
"AN EDUCATION"
Carey Mulligan's star-making performance may have been the story of this spry memory piece coming out of Sundance, but it merely leads the charge for one of the year's most elegantly integrated ensembles. The lickety-split writing and direction, meanwhile, make it look easy.
"HE'S JUST NOT THAT INTO YOU"
I'd call this my list's guilty pleasure, except I feel no remorse for enjoying this smartly spiked marshmallow as much as I do. Sparky comic turns from Je(Gi)nnifers Goodwin and Aniston are not the only reason to give this one a second look.
"JULIA"
The first film I saw in 2009 rather annoyingly served up a performance that could hardly be topped as the year wore on. Tilda Swinton's monumental characterization gives Erick Zonca's moving, messy Cassavetes riff emotional coherence, but the filmmaking bravado waves its own flag.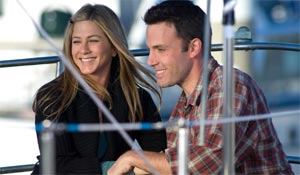 "LONDON RIVER"
Rachid Bouchareb's precise, unassuming follow-up to the Oscar-nominated "Days of Glory" lingers longer than a first viewing might promise. Calm and compassionate in its response to the London bombings of 2005, the film generously foregrounds superb teamwork from Brenda Blethyn and Sotigui Kouyaté.
"MUGABE AND THE WHITE AFRICAN"
The atrocities of Robert Mugabe's "land reform" regime in Zimbabwe finally get the cinematic exposure they warrant in Lucy Bailey and Andrew Thompson's simple but sobering documentary, personal and political narratives woven into a devastating whole.
"PARANORMAL ACTIVITY"
Routinely compared to "The Blair Witch Project," Oren Peli's smashing horror debut was nonetheless less of an exercise and more of a movie. Wittier, pacier and better-acted than it had any right to be – but most importantly, throat-constrictingly scary too.
Some more equal than others:
"MARY AND MAX"


Many of those declaring 2009 the year of animation nonetheless missed its crowning achievement. Adam Elliot's beautiful, big-hearted and black-humored tale took a child's-eye view of mental illness, abuse and sexuality, emerging as the year's most daring family film.
"A SERIOUS MAN"


Lately refusing to repeat themselves from one film to the next, the Coens dove headfirst into choppy waters of faith, madness and mortality, and surfaced with something more bruised and vulnerable than I thought possible from them. Their best film? No. Their most idiosyncratic? Quite possibly.
"A SINGLE MAN"


These two titles have been confused all season; the twinning continues here. Of course, Tom Ford's lushly aestheticized debut would rather be mistaken for Wong or Haynes. Ford wears his influences rather endearingly on his sleeve; happily, the fashion maven has the eye to make it fly.
"SUGAR"

A bit of a cheat, since I saw this jewel in 2008 and left it off that year's list through sheer absent-mindedness; tardy distributors gave me a second chance. The year is immaterial: this exquisitely observed, shimmeringly lensed film is the finest sports drama in recent memory.
"THE WHITE RIBBON"


Michael Haneke's latest answers more questions than we have come to expect from the ornery auteur; that lack of interpretive leeway keeps this from the teasing heights of his best work, but Haneke has never been more in command of his formal and technical gifts.
The Top 10:
#10

"ANTICHRIST"
Directed by Lars von Trier
Having heard the feverish sturm und drang that followed the film's Cannes premiere, I was expecting to take a bit of a sensory beating at Lars von Trier's latest – but I wasn't expecting to have such a good time in the process. Forget all the dreary media debates about misogyny and religion; this is a playful, frenetic ride of a horror film, steeped in genre tropes and nods to the director's own oeuvre, all executed with jaw-dropping filmmaking panache – and populated with a fearsomely committed pair of performances. "The greatest director in the world?" Uh, Lars said it, not me.
#9

"DISGRACE"
Directed by Steve Jacobs
Once again, the film that should have been spearheading one of the year's most notable cinematic trends drew the short straw in terms of exposure: none of this year's screen studies of post-apartheid South Africa caught the country's still-faltering balance between racial reconciliation and retribution than this lean, literate adaptation of J.M. Coetzee's provocative 1999 masterpiece. In a performance that should win any Best Actor award walking away, Malkovich channels the cruel humor and soured intelligence of Coetzee himself; as his opposite number, Jessica Haines makes one of the year's most startling debuts.
#8

"PUBLIC ENEMIES"
Directed by Michael Mann
Michael Mann's steely, swaggering, unflappably macho auteur works tend to attract their own fanclub of devoted acolytes; as someone not in possession of that particular club card, no one is more surprised to find his latest in my Top 10 than I am. But more than any other broad-brush studio entertainment this year, the big, brooding, beautiful "Public Enemies" invigorated me, sweeping me into a richly realized time and place (Oscar noms for Mr. Crowley and Ms. Atwood, please) while placing equal emphasis on character and quirk (add Ms. Cotillard to that list). I was too enraptured even to notice the HD that got the geeks so riled up.
#7

"BRIGHT STAR"
Directed by Jane Campion
Poetry and cinema haven't always enjoyed the greatest of friendships; the immediacy of film can't always replicate the hazy, ruminative distance between the reader and the word, often leading to overdetermined symbolic shortcutting. Jane Campion's rapturously sensual meditation surmounts this challenge ingeniously by creating an alternative visual language for the verse of John Keats, conveying the man's moods, thoughts and influence through the subtlest accents of nature, material and weather. The reader here is his lover, Fanny Brawne; as impeccably played by Abbie Cornish, she is both our ward and our guide through this uncommonly lovely film.
#6

"35 SHOTS OF RUM"
Directed by Claire Denis
As 2009 caps a remarkable decade for her, the wily Claire Denis once more proves herself one of those rare filmmakers whose chamber pieces feel barely less muscular and substantive than their "major" works. There isn't much incident in this wise, honey-hued portrait of a makeshift Parisian family cracking at the seams – not through conflict or contrivance, but the simple wear-and-tear of growing up – but the devil is in the details for Denis, most stunningly in the network of gazes crossing a dance sequence set to, of all things, Lionel Richie and the Commodores. And what other filmmaker can raise a lump in the throat from a simple shot of two adjacent rice cookers?
#5
"WHERE THE WILD THINGS ARE"
Directed by Spike Jonze
Confession time: 10 minutes before the end of Spike Jonze's thrilling redreaming of Maurice Sendak's childhood staple, surrounded by skinny-jeaned hipsters at a late-night East End screening, I let slip a loud, sloppy, quavering man-sob. And then another. And then the full waterworks. It wasn't just because I was so moved by the film's gentle, complicated romance between child and monster – though that certainly played a role. Rather, it was because an indelible part of my childhood had not just survived the journey to adulthood, but in being filtered through another artist's eyes, had acquired something new in the process. I can't wait to return it to my own children one day.
#4

"THE HURT LOCKER"
Directed by Kathryn Bigelow
I'm not sure what my recommendation for this ballsy, riveting exercise in tension can add to that of nearly every critics' circle in America: I can only hope by now that you know how good it is first-hand. The film's independent distributor and modest box-office have led many in the industry to label this niche, arthouse fare, which hardly seems appropriate to the film I saw: a kickass action picture whose brilliantly constructed set-pieces are no less adrenalin-pumping for the loose narrative binding them. If work this thrilling is coming from the indie sector, who needs Hollywood?
#3

"A PROPHET"
Directed by Jacques Audiard
I approached Audiard's latest both with the enthusiasm that one greets new work from a loved auteur, and no small degree of nerves over the uncharacteristic scale and scope of the project – could the director's sly noir-ish sensibility survive the leap to socially conscious prison study? Happily, bigger for once proved to be better: "A Prophet" is Audiard's crowning achievement, magnifying and multiplying the underworld detail of his previous best, with the intricate gang politics of the French correctional system only providing a broader canvas to paint on – and electric newcomer Tahar Rahim dominating the frame.
#2

"FISH TANK"
Directed by Andrea Arnold
Bringing sex, soul and danger to the dour, Ken Loach-run corridors of British kitchen-sink drama, Andrea Arnold's stunning sophomore feature prompted Transatlantic comparisons to "Precious," but bears more striking narrative parallels to "An Education." Either way, it's the most authentic and unyielding of 2009's many cinematic explorations of female teen identity, thanks in no small part to a fizzing, fearless debut performance from 17 year-old Katie Jarvis, who holds Robbie Ryan's restless camera in a kind of mesmerized lockstep. Arnold, meanwhile, locates tension and desire in every beat, most majestically in her dreamily ironic use of Bobby Womack's "California Dreamin'."
#1

"WHITE MATERIAL"
Directed by Claire Denis
The second Claire Denis film on my list may seem an overly convenient choice for #1, given how it neatly covers the prominent 2009 trends of standout female filmmakers, stories about Africa and, well, great Claire Denis films. But "White Material," the Frenchwoman's indirect tribute to the Southern African novelist Doris Lessing, would doubtless top my list in many a year: the cineaste in me thrilled to its tactile, tingly command of atmosphere, its laudably complicated politics and its on-edge performance from a peak-form Isabelle Huppert, but it was the personal connection I felt to its finely-drawn conflict between lines of blood and birth that drew an extra shiver from me.
And there you have it. I do apologize for bunching three titles at the top of my list that have yet to be released Stateside (or, in one case, anywhere else), but best is best. For those of you who haven't caught them abroad or at festivals, I hope you see them as something to look forward to. Happy holidays, everyone.
The top 10 films of 2009:
1. "White Material"
2. "Fish Tank"
3. "A Prophet"
4. "The Hurt Locker"
5. "Where the Wild Things Are"
6. "35 Shots of Rum"
7. "Bright Star"
8. "Public Enemies"
9. "Disgrace"
10. "Antichrist"
And, for the sticklers, the top 10 U.S. releases of 2009:
1. "The Hurt Locker"
2. "Where the Wild Things Are"
3. "35 Shots of Rum"
4. "Bright Star"
5. "Public Enemies"
6. "Summer Hours"
7. "Disgrace"
8. "Antichrist"
9. "Mary and Max"
10. "Sugar"
Agree? Disagree? What knocked you out in 2009? Have at it in the comments section.