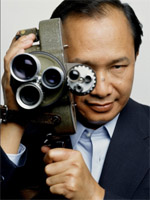 Seems a bit early to be thinking about such matters, given that the 2010 Venice Film Festival is not until September 1, but here's an early Christmas present for veteran Chinese action master John Woo.
He will receive the Lifetime Achievement Award at the festival, one year after John Lasseter and the Pixar crew received the same honor. (For an artsy festival, this award is taking an interestingly populist bent of late.) Hopefully, I'll be on the Lido again to observe first-hand.
The news caps a reasonably prominent year for Woo, whose latest, "Red Cliff," has a number of admirers. I personally think he has yet to top "Face/Off," but maybe that's my inner 14 year-old talking. Press release after the cut.
Asian and Hollywood director and producer John Woo, an innovator of the contemporary language of cinema, has been awarded the Golden Lion for Lifetime Achievement of the 67th Venice International Film Festival (Venice Lido, September 1-11, 2010).

The decision was made by the Board of Directors of the Biennale di Venezia, chaired by Paolo Baratta, at the recommendation of the Director of the Festival, Marco Mueller.

The acknowledgment recognizes a filmmaker who in recent decades, with his revolutionary conception of staging and editing, has renewed action movies to the core, introducing an extreme stylization (close to visual art), both in Asia (in films such as A Better Tomorrow, 1987; The Killer, 1989; Bullett in the Head (1990); Hard Boiled, 1991; the recent colossal film The Battle of Red Cliff), and in Hollywood (Broken Arrow, 1996; Face/Off 1997; Mission Impossible 2, 2000).

In his war and gangster film masterpieces, Woo has been capable of transfiguring hyperbolic motion (defying gravity) and exasperated violence with a highly original poetic and romantic infusion, sustained by an extremely personal and energetic figurative tension, similar to a surreal hallucination.

A director, producer (with his Lion Rock), and author of videogames and graphic novels, John Woo is considered a master who has changed the language of contemporary film for generations of filmmakers: his admirers range from Martin Scorsese to Olivier Assayas, from Jonathan Demme to John Landis, Sam Raimi to Quentin Tarantino, examples of the international cult for his action scenes choreographed like a ballet, and for his radically innovative use of editing.

John Woo will return to the Venice International Film Festival for the fourth time. In 2004 he was the "godfather" of the Secret History of Asian Film. In 2006 he directed one of the episodes of All the Invisible Children, a film screened out of competition at the 63rd Mostra. In 2007 he was the producer of Blood Brothers (Tiantang kou), the debut feature by Alexi Tan, the closing-film of the 64th Mostra.