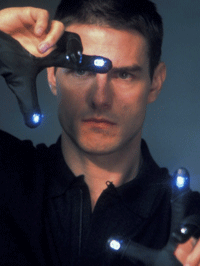 This column has been the elephant in my living room for months.
Putting together a list of the year's best films is easy. It's fresh. It's in your mind. It's, in many ways, the expected culmination.
Putting together a list of the decade's best films is a different chore altogether. Yearly rankings fly out the window as a proper gauge, because tastes shift and impacts either dwindle or deepen. Revisiting films is called for, but fitting in the works you missed along the way is also imperative. It can be maddening.
And the truth is, you can't see everything. All you can do is try to be as honest about how you feel as you can. And even then, no list can be definitive on a personal level, let alone authoritative.
And so the whittling begins, and in many ways, the process is the reward. The ultimate collective is a mere reminder of the journey through 10 years of film product. But some things stuck out along the way.
For instance, I'm fascinated by the work of Jacques Audiard, Arnaud Desplechin and Ramin Bahrani, but none of their admirable films made the cut. Nevertheless, I think if they stick to it, each will one day give us his own instant classic.
Then there were films that really spoke to me but didn't come together enough to land on the list. Jean-Luc Godard's "Nortre Musique," for instance, or Béla Tarr's "Werckmeister Harmonies." The same could be said of Darren Aronofsky's "Requiem for a Dream."
Pinning down a "filmmaker of the decade" is somewhat difficult, too…as it would be. Clint Eastwood was certainly prolific, but none of his nine films resonated enough to even crack the lowest tiers of my list. Paul Thomas Anderson knocked it out of the park every time he stepped up to bat, but that was still a grand total of two times. And Martin Scorsese enjoyed an interesting roller coaster of tone, theme and story, but none of his work measured up to the bar he's already set for himself.
Danny Boyle had a wild ride that ended with a well-deserved Oscar last year. Paul Greengrass stood up and made himself and his talent known. And the Coen brothers kept an even keel, culminating with their best film in well over a decade.
A compelling argument could be made for the Pixar Animation Studio as a whole, but I'd personally like to be more specific than that. And Lars Von Trier's involvement in three of the decade's best makes a pretty strong case as well. But the name I came up with was…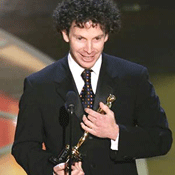 Charlie Kaufman.
Granted, Kaufman only directed one film over this stretch — 2008's "Synecdoche, New York" — but the films he penned throughout the decade were unmistakably of his vision and he made the first legitimate case for an auteur screenwriter.
I have no trouble considering Kaufman the filmmaker of the decade. And he's the only person to show up twice on my list.
Before getting to my 10, I would like to specifically cite some entries that just missed. We should be allowed that when it comes to a decade of product.
• Cameron Crowe's "Almost Famous" was a gorgeous love letter to music and a lovely take on coming of age tropes. Unfortunately it has been all downhill from there for the filmmaker.
• Christopher Nolan's "Memento" was a wonderful cinematic journey. Along with his 1998 debut "Following," it announced the sort of psychological themes that would dominate his work throughout the decade.
• Steven Spielberg's one-two early decade punch of "A.I.: Artificial Intelligence" and "Minority Report" was an unexpected gasp of quality sci-fi cinema. We got another such gasp in 2009, interestingly enough.
• Spike Lee's "25th Hour" has grown in stature perhaps more than most films mentioned in this column over the years. An intense post-9/11 portrait, it is one of Lee's finest hours, an expert piece of expressive cinema.
• Paul Thomas Anderson's "Punch-Drunk Love" was a beautiful portrait of peculiar romance with a vibrant sense of the medium and some really striking performances. It seemed to reveal a true artistry in his work for the first time.
• Gus Van Sant's "Last Days" was an affecting cerebral take on the final days of musician Kurt Cobain, and ultimately, an intriguing look at the boredom of superstardom. It's one of those atmospheric heroes of the medium.
• Alfonso Cuaron's "Children of Men" nailed dystopia and invigorated the spirit with its equally stark and exhilarating mise-en-scene. Cuaron himself should be spotlighted as having had a great decade, in fact.
• John Cameron Mitchell's "Shortbus," crafted from material improvised by a cast of unknowns, was a kaleidoscope of the filmmaker's personality. Metaphor and insight abounded as a truly organic ensemble worked as a living creature of purpose.
• James Cameron's "Avatar" is a special case designation, I think. It didn't make the top of my 2009 list obviously but it nevertheless deserves to be mentioned alongside the best of a decade, considering it was the most innovative of a decade.
• And the Coen brothers' "A Serious Man," as I've mentioned recently, was a potent, resilient effort that crowned their work over the past 10 years. (Though privately, I'm finding it humorous that my favorite year in movies this decade did not, in fact, yield a placement on the list.)
In the end, I guess you have to lay down your cards. And these are mine. I'm trying not to make too big a deal out of this. It is, after all, the kind of thing that could change drastically in a week, in a month. But these are the 10 I feel most represent how I saw a decade of filmmaking, the most compelling ideas, the most engaging work. And I'm happy to share them now…
#10

"MOULIN ROUGE!"
Directed by Baz Luhrmann, 2001
Baz Luhrmann's wonderfully creative re-invention of the movie musical, "Moulin Rouge!" is alive in ways most films simply are not. It's reverence for the medium can be charted in any number of homages, both subtle and explicit, but most of all, the film's borderline assault on the senses becomes an intriguing commentary on the cinema's vigorous visceral potential. And that's before we get to the marvelous audacity of some of the film's song choices and, of course, the penetrating themes on display.
#9

"THE DIVING BELL AND THE BUTTERFLY"
Directed by Julian Schnabel, 2007
Representative of uncommon cinematic vision from the mind of filmmaker Julian Schnabel, "The Diving Bell and the Butterfly" is the result of a consummate artist striving for vastly different things behind the camera than any of his contemporaries. Schnabel created a menagerie that became that rare example of a film less impressive in the sum of its parts than it is in the analysis of each working component. It is masterful in ways it seems critical analysis has not yet considered.
#8

"FINDING NEMO"
Directed by Andrew Stanton, 2003
The optimum Pixar endeavor is, to date, still the most financially successful of the studio's theatrical releases. "Finding Nemo" is a thrill-ride for all ages, but an engaging, emotional narrative as well, one that signaled the commercial potential for mature animated storytelling long before "WALL-E" or "Up" came along. The film is also quite possibly Pixar's most beautifully animated effort yet, accompanied by award-worthy voice work from Ellen DeGeneres, one of the better "performances" of 2003, in fact.
#7

"INLAND EMPIRE"
Directed by David Lynch, 2006
Filmmaker David Lynch has been twisting the cinematic medium to fit his whims of fancy for the better part of three decades. But with "Inland Empire," he seems almost bored with that medium, perhaps even contemptuous of his audience. He dares the viewer to stick with 180 minutes of sheer audacity and a tapestry of narrative innovation. The film exists as a longing for something else, something different, something unequivocally diverse, and he should be applauded for it.
#6

"ETERNAL SUNSHINE OF THE SPOTLESS MIND"
DIrected by Michel Gondry, 2004
Charlie Kaufman's words on the page have never worked so congruous with a director's vision of them as with "Eternal Sunshine of the Spotless Mind." Actress Kate Winslet received awards attention, co-star Jim Carrey deserved more, but as usual with a Charlie Kaufman project, Charlie Kaufman is the star. Penning a compelling spin on the love story with more authenticity and genuine empathy than the greatest of the genre, he gets at the heart of a relationship and keeps the audience rich with insight throughout.
#5

"ADAPTATION"
Directed by Spike Jonze, 2002
An intense and often emotional portrait, Spike Jonze's "Adaptation," from a screenplay by Charlie Kaufman, is one of the most successful attempts at relating an artist's journey on the big screen. But the film's beauty stretches farther than reflexivity, offering up a universal message inherent in the title: the search for a place in the world, for the terms that work for you, the struggle to adapt and the confusion that struggle manifests is often the most rewarding, significant and revealing journey you'll ever take.
#4

"THE FOUNTAIN"
Directed by Darren Aronofsky, 2006
Since the release of "Pi" in 1998, it has been clear that director Darren Aronofsky is generally interested in something more visceral in his filmmaking. After years of failed preparation left the director slashing and burning ideas and intentions all along the way to a 90 minute condensation of his original vision, "The Fountain" might be considered an unfortunate failure in some viewers' eyes. But it is undeniably the trail left by a filmmaker determined to stretch his artistic vernacular.
#3

"IRREVERSIBLE"
Directed by Gaspar Noe, 2003
Both critically panned and critically hailed upon its debut at the 2003 Cannes International Film Festival, "Irreversible," Gaspar Noé's grim exploration of the fragility of love ranks as one of the most effectively gripping cinematic events in recent memory. Utilizing a backwards narrative more adequately than we have yet seen, Noé takes the viewer on a hypnotic quest past consequence and into a foreshadowing realm of innocence that is at once heart-breaking and cautionary.
#2

"DOGVILLE"
Directed by Lars Von Trier, 2004
After a typically scandalous bow at Cannes in the summer of 2003, Lars Von Trier's "Dogville" found itself at once charged and praised as "anti-American." Abandoning all rules set forth by his "Vow of Chastity" regarding the Dogme95 movement, the eccentric and maverick director reaches depths of symbolism, power and understanding with this film he has never before even skirted. The work is also one of the most effective pieces of political allegory, in any medium, of the modern era.
#1

"THE ASSASSINATION OF JESSE JAMES BY THE COWARD ROBERT FORD"
Directed by Andrew Dominik, 2007
What author Ron Hansen created in his 1983 novel "The Assassination of Jesse James by the Coward Robert Ford" was a unique perspective within a genre too easily given to derivation. A focused examination of celebrity and idolatry, wrapped in the spirit of Shakespearean tragedy, the author's efforts clearly inspired filmmaker Andrew Dominik. Dominik pieced together a "Victorian western," as he's called it, part-elegy in its visualization of a wild west on the march toward domestication. Career-best cinematography from legendary lenser Roger Deakins and a beautiful score from Nick Cave and Warren Ellis are just gravy on this, the finest film to come along since Terrence Malick's "The Thin Red Line." It is, for my money, the absolute best film of the decade.
The top 10 films of the aughts:
1. "The Assassination of Jesse James by the Coward Robert Ford"
2. "Dogville"
3. "Irreversible"
4. "The Fountain"
5. "Adaptation"
6. "Eternal Sunshine of the Spotless Mind"
7. "Inland Empire"
8. "Finding Nemo"
9. "The Diving Bell and the Butterfly"
10. "Moulin Rouge!"
And that about wraps it up. It's been a solid decade, if one not nearly as powerful on the screen as the last, but some bold advances were made and more than a few great artists offered up classic, uncompromising visions that will last a lifetime.
What are your thoughts on the best films of the aughts? Have your say in the comments section below!