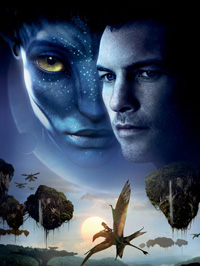 *All historical figures cited are adjusted to today's dollars.
Alright, let's get down to brass tacks. "Avatar" is the number one movie of the weekend with a $73 million gross. This is an enormous figure, there's no two ways about it. It's the fourth-biggest December debut of all time. It's the 26th-biggest debut of all time for a non-sequel. It's the ninth-biggest debut of all time for a film with no previous source material or built-in fanbase.
A record amount of money was spent on this production with only the reputation of James Cameron as a selling point and it may just pay off. A film like "I Am Legend" can debut in December with $80.6 million and with lukewarm reviews and word of mouth can make it all the way to a $264 million total. With the reception that "Avatar" has received and the inevitable batch of Oscar nominations, there's no reason why it shouldn't make $300 million domestically. It would need to match that overseas to even come close to profitability, but that should be no problem as the film already has $150 million in the bank overseas.
It's no secret that I thought the film looked stupid. I also would love nothing more than to never have to hear about 3D in movies again. But I also know that any time a film with an original screenplay from a distinct filmmaker can earn this type of money, it's a good thing for the industry.
Sony's attempt at counter-programming, "Did You Hear About the Morgans?" was an epic fail to the tune of $7 million. Even with fantastic December legs, you're looking at a $45 million total and only a lifetime of reruns on TNT to look forward to. Incidentally, this film has been made once before with Tim Allen and Kirstie Alley as "For Richer or Poorer" and even that debuted with $9.4 million in December 1997. If you can't beat Tim Allen and Kirstie Alley, it's time to pack it in.
It was a rough week for almost all holdovers as "Avatar" clearly sucked out all the life in the marketplace. "The Princess and the Frog" fell 50% and "Invictus" crashed 52%. Only "The Blind Side" showed any kind of durability by falling 33% and taking its total past $164 million. This Sandra Bullock getting an Oscar nomination thing isn't going away so let's all get used to it. Sorry to any female who gave a great performance in a good film. There's just not enough room for you AND Sandra Bullock.
"Up in the Air" expanded to 175 screens and crashed the top 10 with $3.1 million. That's an excellent per-theater average and you have to expect big things from this one through January. Clooney hasn't had a movie without "Ocean" in the title gross more than $60 million since 2000, so a big total will be much more welcome than another golden statue.
"Nine" put in some strong numbers on four screens, earning $246,933 or $61,733 per theater. That's nowhere near the figures that "Dreamgirls" or "Moulin Rouge!" started with in limited release, but it's a solid start nonetheless.
"Crazy Heart" earned $20,551 per theater, which is less than half of what "The Wrestler" earned on the same number of screens during the same exact weekend last year.
Finally, "The Lovely Bones" dropped 65% from it's already lukewarm start and looks in real trouble. Paramount would be wise to scrap the Oscar-bait approach and market it like a straight-up thriller for its wide January release and pretend this limited debut never happened.
This week I saw "The Princess and the Frog" and I thought it was wonderful. Not quite as top-drawer as "Beauty and the Beast" or "The Lion King" but highly entertaining nonetheless.
What about you?  Here are the weekend's top domestic grossers, courtesy of Exhibitor Relations: