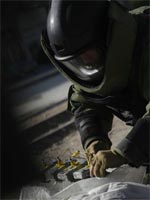 • Kris wrapped up 2009 with his take on the year's best films, also offering his own preferred nominees and winners in a range of categories. (I'll chime in next week.)
• "Up in the Air" led this year's pack of Golden Globe nominees.
• It also joined "Precious" and "Inglourious Basterds" at the head of the pack in the SAG nominations — while missing out in their top race.
• "The Hurt Locker" emerged as this year's critics' favorite, earning top honors from a host of groups, including the two biggest: the NYFCC and the LAFCA.
• It also landed on the American Film Institute's list of 2009's best, along with some more surprising inclusions.
• The Broadcast Film Critics Association unveiled its newly expanded nominations, with "Inglourious Basterds" and "Nine" atop the pile.
• Over on the other side of the world, "The White Ribbon" took top honors at the European Film Awards.
• If you're struggling to keep up, we've gathered all the season's precursors to date here.
• Amid this influx of precursors, this week's The Long Shot column considered how to adjust one's personal horses over the season.
• We interviewed "Bright Star" helmer Jane Campion, as well as the "Crazy Heart" pairing of Robert Duvall and Scott Cooper.
• Our Tech Support interviews series continued as we chatted to the below-the-line talent of "Up in the Air."
• "The Princess and the Frog" topped the box-office charts, though it's only keeping the seat warm for "Avatar"'s arrival.
• With 63 contenders announced for the Best Original Song Oscar, we spotlighted another "Crazy Heart" tune and a pair of tracks from "An Education."
• Our Great Performances series continued: 2005 is the year.
• Looking ahead to next year, "Shutter Island" and Roman Polanski's "The Ghost Writer" were confirmed for the 2010 Berlin Film Festival.
• As always, Anne and Kris put a bow on a busy week's events in Oscar Talk.