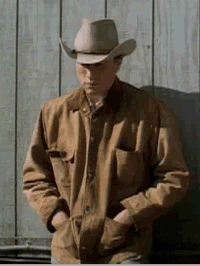 2005 was the year of Heath Ledger's beautiful, moving performance in "Brokeback Mountain," which I saw for the first time in Toronto.  It instantly became the talk of the festival, and the film became the one to beat for the Academy Award.
Ledger was astonishing as the taciturn cowboy who is more surprised than anybody when his soulmate turns out to be another cowboy, portrayed superbly by Jake Gyllenhall. If there is a more deeply felt moment in film history than Ledger gently adjusting Gyllenhall's shirt at the end of the film, his eyes filled with tears, I don't know what it is. That's loss, that is absolute heartbreak, that is one of the greatest acting performances of the decade.
Phillip Seymour Hoffman would win the Oscar for his transformation into "Capote" and he's very good, but just not in the same league as Ledger. I wondered from time to time if "Infamous" had been released earlier if Toby Jones might have won the Oscar instead of Hoffman. Each becomes Capote in a very different manner, and side by side it is difficult to choose the stronger portrayal. Certainly I prefer Hoffman's as it is darker, and for me more realistic, but there can be no denying Jones.
I was totally unmoved by both Joaquin Phoenix and Reese Witherspoon in "Walk the Line," and I could never understand how Witherspoon won the Academy Award.  Writer/director James Mangold missed the entire spiritual transformation of Cash and failed to explore why he wore black, which he made clear in a song. The performances felt forced, never fully realized or believable, and I know, oh how I know, I am in the minority on both.
But did everyone miss Joan Allen in "The Upside of Anger?" The Academy clearly loves her, and here was the perfect chance to award the woman for her work, but they chose instead to not even nominate her. Hmmmm. Odd.
I did like that they nominated the great character actor David Strathairn for "Good Night, and Good Luck.," and that they noticed Terence Howard for his mesmerizing turn in "Hustle and Flow."
I had thought Russell Crowe would be nominated for "Cinderella Man" or that Eric Bana might get a nod for "Munich." Though not a huge fan of Ralph Fiennes, I thought he did his best work since "Schindler's List" in "The Constant Gardener" and deserved some attention.
Viggo Mortenson gave a remarkable performance in "A History of Violence," while Jeff Daniels, a well-traveled character actor did career-best work in "The Squid and the Whale." I remember being stunned by Tommy Lee Jones's elegant and oh-so-real performance in his magnificent "The Three Burials of Melquiades Estrada," which might be the best work of his career and won him great attention at Cannes.
After awards attention for his work in "Lost in Translation," Bill Murray and his career seemed to be going very well.  In 2005 he gave another fine performance in "Broken Flowers," a wonderful indie that should have garnered him greater attention. But even with all these great performances, it is still my belief that Heath Ledger's performance was stronger than them all, one for the ages.
Joan Allen gave the best performance of the year by an actress in "The Upside of Anger," but the film's release in the spring hurt her chances and by Oscar time she was all but forgotten. How sad.
Another performance that deserved great attention and a nomination was Naomi Watts in "King Kong," in which the actress went far beyond what anyone expected of her, fleshing out a character that we came to care about. Judi Dench, meanwhile, was justly nominated for her work in "Mrs. Henderson Presents," as was Felicity Huffman for her miraculous performance in "Transamerica," one of the most daring pieces of acting I had seen in a long, long time.
After her win in 2003, Charlize Theron was back among the nominees for a powerful performance in "North Country" along with Keira Knightley, a surprise nominee (for me) in "Pride & Prejudice." I had always felt Gwyneth Paltrow deserved a nomination for Best Actress for her haunting and haunted performance in "Proof" going far beyond what she accomplished for her win back in 1998.  And Laura Linney matched what Jeff Daniels accomplished in "The Squid and the Whale" shot for shot, doing some of the finest work of her career.
The Best Supporting Actress categopry should have contained such names as Renee Zellweger, so good in "Cinderella Man," Jessica Lange, all toxic rage in "Broken Flowers," Thandie Newton in "Crash," Scarlett Johansson in "Match Point," Patricia Clarkson in "Good Night, and Good Luck." or Maria Bello in "A History of Violence." None, of course, were nominated.
It was rewarding to see Michelle Williams nominated for her lovely work in "Brokeback Mountain" as well as the eventual winner, the haunting Rachel Weisz in "The Constant Gardener" (such a superb performance).
As much as I liked Frances McDormand in "North Country," I thought her co-stars Michelle Monaghan and Sissy Spacek were equally nomination worthy. Amy Admas gave a star making performance in "Junebug" and then became just that, one of the brightest young actresses working. The great Catherine Keener was a wonderful foil for Hoffman in "Capote" as the celebrated writer Harper Lee, and January Jones was marvelous in "The Three Burials of Melquiades Estrada," though no one noticed.
A case also could have been made for the frosty Tilda Swinton in "The Chronicles of Narnia: The Lion, the Witch and the Wardrobe" as the evil white witch, the stuff of nightmares.
The Best Supporting Actor I saw in 2005 was Terrence Howard in "Crash," but they nominated the worthy Matt Dillon and snubbed Howard. Dillon was astonishing, the sequence under the vehicle alone was worth the nomination.
I had really hoped that Kevin Costner might get a nomination for "The Upside of Anger" and was thrilled when Paul Giamatti did get one for "Cinderella Man," a wonderful performance.
Before Mickey Rourke was winning accolades in "The Wrestler," he was outstanding in "Sin City," perhaps deserving of a nomination for his work in that picture. George Clooney won the Oscar for "Syriana" and his is a very fine performance, no question, but better than Danny Huston as the treacherous friend in "The Constant Gardener" or Donald Sutherland in "Pride & Prejudice?"
Anthony Hopkins was terrific in "Proof" oppsite Paltrow, the two of them bouncing off one another nicely, neither dominating the film, each serving the script. Bob Hoskins was wonderfully dapper and fussy in "Mrs. Henderson Presents" and God help me I loved Will Farrell in the otherwise dreadful "The Producers."
Finally, William Hurt made a stunning comeback in "A History of Violence," all but stealing the movie in about ten minutes of screen time. Also very good in the film was the always brilliant Ed Harris as a horribly scarred mob henchman.
That's how I saw the year 2005 in performances.  What about you?  Have your say in the comments section below!