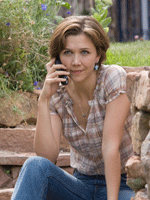 Speaking of "Crazy Heart," I've been told that Maggie Gyllenhaal's campaign for the film has been (smartly) shifted from lead actress to supporting actress.  One can only expect that the original (in my opinion, false) perspective that the lead actress field was "weak" had something to do with the original placement.  But I've always been of the mind that the film is about Bad Blake and that a co-lead argument doesn't gel here.
The performance was submitted to the Screen Actors Guild as a lead, while the HFPA designated it a lead for their purposes as well.  The Academy, of course, can vote how they choose, but I think this part naturally pops out as a supporting one and that any votes will likely go there anyway.
It's also a bit encouraging that Gyllenhaal had some modest support in the early stages of the NYFCC's voting last week.  But the question is, can she make the cut?  And I actually think there is a shot here, to be honest.
The supporting actress category is in flux, I feel.  No one but Mo'Nique and Anna Kendrick is secure.  Vera Farmiga is also quite likely.  But no announcement has really had an impact on the rest of the field.  Penelope Cruz, maybe.  Probably, in fact, but then what if "Nine" gets a big cold shoulder across the board?  Julianne Moore is still a possibility, and Diane Kruger, despite the SAG nod, probably won't play a part here.
So…why not?  Critics are more and more in the film's corner, and its frankly unfair relegation to an "actors' piece" could actually help out in this instance.  I really do think it could be a fringe Best Picture spoiler, but at the end of the day, the chemistry sparked up between Bridges and Gyllenhaal is intriguing, authentic and rather touching at times, so I think we might want to keep an eye out here.
I sat down for breakfast with Gyllenhaal last week and haven't had a chance to properly write up an interview, but this seems as good a place as any to just offer up the audio of that, so give it a listen below.
[display_podcast]