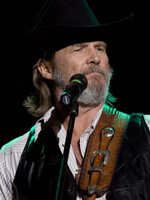 Today we're wrapping up the "listen to" series of featured tracks in this year's Best Original Song race.  We spotlighted 17 contenders in total, not all of which made the eventual eligibility cut, of course.  But it's been a nice way of giving the field it's proper due.
Surprisingly enough, only one other song from "Crazy Heart" joined "The Weary Kind" on this year's list of eligible contenders.  That song was "Somebody Else," which is in fact the first tune we hear Jeff Bridges's Bad Blake character sing in the film.  The opening lyric was a particular favorite of songwriter T Bone Burnett's: "I used to be somebody.  Now I am somebody else."
It's a great moment because it introduces you to the killer soundtrack that will unfold for the next two hours and because it sheds a compelling light on the film's central character, a man clinging to his past when he has long outgrown it.
Have a listen below and tell us what you think.
[display_podcast]