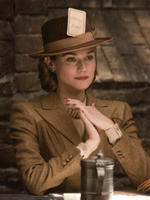 There wasn't much in the way of a surprise with this year's Screen Actors Guild announcement.  The nods that are least likely to translate to Oscar, if I were a betting man, are Diane Kruger's supporting actress bid for "Inglourious Basterds" and (I guess I just have a feeling) Matt Damon, supporting for "Invictus." The rest seem like safe bets on down the line.
I wouldn't read too much into the ensemble snub of "Up in the Air," though it's curious to nominate three actors from the film and then ignore it in that field.  The ensemble category is also where "Nine" got its expected attention, though Penelope Cruz also showed up in supporting for the film.  The BFCA, you'll recall, went for Marion Cotillard instead.
"Precious," "Inglourious Basterds" and "Up in the Air" had the most nominations, with three apiece.  I would have expected "An Education" to have that designation, too, but somehow Alfred Molina was ignored.  Maybe that won't be the case with Oscar, maybe it will.
On to the next thing.  Check the full list of nominees after the jump.
Best Actor
Jeff Bridges, "Crazy Heart"
George Clooney, "Up in the Air"
Colin Firth, "A Single Man"
Morgan Freeman, "Invictus"
Jeremy Renner, "The Hurt Locker"
Best Actress
Sandra Bullock, "The Blind Side"
Helen Mirren, "The Last Station"
Carey Mulligan, "An Education"
Gabourey Sidibe, "Precious"
Meryl Streep, "Julie & Julia"
Best Supporting Actor
Matt Damon, "Invictus"
Woody Harrelson, "The Messenger"
Christopher Plummer, "The Last Station"
Stanley Tucci, "The Lovely Bones"
Christoph Waltz, "Inglourious Basterds"
Best Supporting Actress
Penelope Cruz, "Nine"
Vera Farmiga, "Up in the Air"
Anna Kendrick, "Up in the Air"
Diane Kruger, "Inglourious Basterds"
Mo'Nique, "Precious"
Best Ensemble
"An Education"
"The Hurt Locker"
"Inglourious Basterds"
"Nine"
"Precious"
Best Stunt Ensemble
"Public Enemies"
"Star Trek"
"Transformers: Revenge of the Fallen"