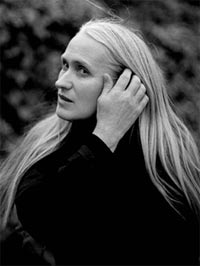 Jane Campion's laugh comes as a rather lovely surprise: full, throaty and often directed at herself, it betrays a personality more robust, mischievous even, than one might surmise from her fragile, often solemn films. It's a disconnect she cheerfully acknowledges, and credits in part to her collaborators.
"As a filmmaker, it helps me to be around young people," she says, referring to the unusually youthful cast and crew of "Bright Star," her exquisite meditation on first love, nature and poetry – via the star-crossed affair of John Keats and his teenaged lover Fanny Brawne.
"People in their twenties can be quite moody and quiet, and not in a bad way – they know how to be alone with their thoughts. People my age tend to blab on a bit without thinking, like I'm doing now."
She laughs again. If that's a frequent occurrence over the course of our phone conversation, it could be because Campion is as relaxed and content as she has ever been in her career. Her first feature since 2003's harshly-received erotic thriller "In the Cut," "Bright Star" has placed the New Zealander back in critics' good graces, even if it looks increasingly unlikely to emulate the Oscar success of her 1993 breakthrough "The Piano."
Neither acclaim nor awards, however, appear to be of great concern to Campion: as loyal to her perceived misses as she is to her critical hits, she's particularly proud of "Bright Star," the film she feels best represents her at this point in her life.
"I love 'In the Cut,' but it isn't me, personally," she says. Campion boarded that film, an explicit adaptation of Susanna Moore's literary study of masochistic female sexuality, at the request of former collaborator Nicole Kidman, only for the actress to later bow out. "It was very much Nicole's passion. I'm not at all like Frannie [the film's protagonist], I'm not a self-sacrificer. Keats is much more my core, my home zone. I like the demonic, too – but that tenderness in 'Bright Star' is more where I'm at these days."
"I knew the film was beyond my comfort zone, that it would be provocative, but that's never a reason not to do something. I mean, I got it – people didn't like the movie. It's disappointing, it stings … but in an hour, I was over it. I mean, I still had a wonderful time making it."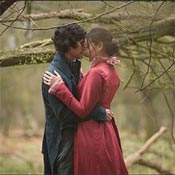 She goes so far as to say that she welcomed the reduced industry expectations that follow a flop: "I think when you've been unsuccessful, you become more real to people. I could see everyone looking at me and thinking, "Yeah, you're one of us now, you're a failure." It's strangely liberating!" She lets loose another giggle.
The six-year hiatus that followed "In the Cut" was, Campion explains, both a professional and personal one – a period of "no stress and no timetable" that she spent reading, sewing, mentoring students and, in her words, "discovering what I'm really interested in when I'm not thinking about work."
That this mind-wandering led her to Andrew Motion's hefty biography of John Keats wasn't something she expected, not being an aficionado of Keats – nor even of poetry in general, which she claims tends to leave her feeling "a bit of a dummy – not unlike Fanny herself."
Rather, it was the marriage of Keats's personal life with his art that intrigued her, though she initially couldn't see how to realize it on screen. "The story struck me so hard, but the last thing I wanted to do was one of those big, baggy biopics," she says, her eye-roll practically audible over the line. "So I put it away for a while. But then I hit on the idea of telling it from Fanny's point of view, and it all made sense. It's a very containable story, and I loved her. Plus, she loved sewing, and I was in kind of a sewing phase at the time."
Campion was further inspired for the project by her teaching and mentoring work – a key revelation arriving when she revisited the work of French minimalist Robert Bresson with her students.
"I watched 'A Man Escaped,' and was just stunned anew by how simple and riveting it was. I'm so over directors' style: just shut up and tell the story!" Another laugh. "So this time, I just wanted to stand back and let the story tell itself. Before, I was all, "Look over here! Look over there!" This film isn't designed to direct you as much."
Campion's mentor qualities are also evident in her pride over the contributions of comparatively youthful collaborators like 33 year-old DP Greig Fraser and 23 year-old composer Mark Bradshaw. She credits her tight budget with forcing her to make bolder choices.
"I couldn't afford people like Dion [Beebe] anymore, so I took it as an opportunity to support new talents who I knew were brilliant." She pauses. "I mean, this is a story about a man who wrote his life's work at the age of 23. If I can't show off young talent on this film, when can I?"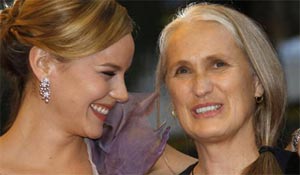 Campion is similarly devoted to the cause of developing young female talent in the industry, imploring the U.S. government to emulate Australia by issuing arts funding on a pro-rata basis, equally divided between the sexes. It's a timely plea in a year that has seen an uncommon number of prominent works surface from female directors, from rising talents like Andrea Arnold to trailblazers like Kathryn Bigelow, Claire Denis and Campion herself.
Though she acknowledges that it's been an encouraging year for women in film, Campion is quick to cite "chilling" evidence that equality is a long way away. "I read a New York Times piece recently which said something like 6% of projects coming out of Hollywood are female-directed," she says, her voice lowered. "That's just evil. We need to get in the troops and fight it. We can't stand back any longer."
She goes quiet, and I wait for her now-familiar laugh. This time, it doesn't come.