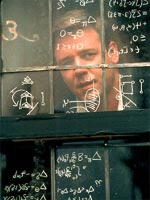 A few things puzzled me about this Variety piece in which Iain Blair takes on a familiar chestnut of a topic: the box-office divide between public favorites and Oscar contenders.
The first is that he considers the "disparity between art and commerce" to be "accelerating" — a curious argument to make at a time when "Avatar," "Up" and "Inglourious Basterds" (none of which Blair mentions) look likely to feature on the Best Picture list. Blair's argument is well-tailored to last year's Oscar race, but reads somewhat stale now.
The second is, well, this entire paragraph:
Sure, "Titanic" grabbed a ton of Oscars and racked up the biggest box office in history. But more recent critically acclaimed best picture winners such as "Shakespeare in Love," "A Beautiful Mind" and "Chicago" did middling to poor business. And "Crash" and "The English Patient" simply crashed and, well, burned at the box office.
I defer to Chad in the numbers department, but in what world is $170 million (the gross achieved by both "Chicago" and "A Beautiful Mind") a "middling to poor" result? Hell, "Shakespeare in Love" even managed a cool $100 million.
Meanwhile, I can think of a few prestige bombs that could only dream of "crashing and burning" to the tune of $78 million, as "The English Patient" did. (That's slightly more than "Braveheart" managed the year before, for those keeping score.) "Crash" may be the lowest-grossing Best Picture winner of all time (adjusted for inflation), but a $54 million gross was still a Cinderella result for a $6 million indie that arrived in spring with minimal expectations.

I'm not saying these are all blockbuster figures. But they're respectable ones. "The Hurt Locker" can only gaze hungrily at such numbers, after all. A win for that would abet Blair's argument. Here's hoping.