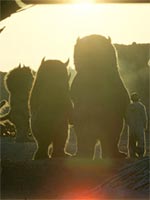 Normally, I'm against critics' groups bothering with nominations. Just cut the crap and give us your picks — you're not that anticipated, after all.
But I'll make an exception this year for the Chicago Film Critics Association, if only because it allows them to shine a light on some names that have been lost amid the consensus of critics' prizes so far. There are some pleasantly left-field picks here, beginning with a co-leading six bids, Best Picture and Director included, for "Where the Wild Things Are."
"A Serious Man" also makes the Best Picture cut, while "Precious" is a surprising omission. (Is it losing momentum?) Hearty cheers, too, for the mentions of Matt Damon (for the right film, this time) and — finally — "Bright Star"'s Abbie Cornish and Greig Fraser. Still no Tilda Swinton, but I'm letting that one go.
Full list of nominees (props to AwardsDaily) after the cut.
BEST PICTURE
"The Hurt Locker"
"Inglourious Basterds"
"A Serious Man"
"Up in the Air"
"Where the Wild Things Are"
BEST DIRECTOR
Kathryn Bigelow, "The Hurt Locker"
Joel and Ethan Coen, "A Serious Man"
Spike Jonze, "Where the Wild Things Are"
Jason Reitman, "Up in the Air"
Quentin Tarantino, "Inglourious Basterds"
BEST ACTOR
Jeff Bridges, "Crazy Heart"
George Clooney, "Up in the Air"
Matt Damon, "The Informant!"
Jeremy Renner, "The Hurt Locker"
Michael Stuhlbarg, "A Serious Man"
BEST ACTRESS
Abbie Cornish, "Bright Star"
Carey Mulligan, "An Education"
Maya Rudolph, "Away We Go"
Gabourey Sidibe, "Precious"
Meryl Streep, "Julie & Julia"
BEST SUPPORTING ACTOR
Peter Capaldi, "In the Loop"
Woody Harrelson, "The Messenger"
Christian McKay, "Me and Orson Welles"
Stanley Tucci, "The Lovely Bones"
Christoph Waltz, "Inglourious Basterds"
BEST SUPPORTING ACTRESS
Vera Farmiga, "Up in the Air"
Anna Kendrick, "Up in the Air"
Mo'Nique, "Precious"
Julianne Moore, "A Single Man"
Natalie Portman, "Brothers"
BEST ORIGINAL SCREENPLAY
"Away We Go"
"The Hurt Locker"
"Inglourious Basterds"
"A Serious Man"
"Up"
BEST ADAPTED SCREENPLAY
"An Education"
"In the Loop"
"The Informant!"
"Up in the Air"
"Where the Wild Things Are"
BEST FOREIGN-LANGUAGE FILM
"Broken Embraces"
"Red Cliff"
"Sin Nombre"
"Summer Hours"
"The White Ribbon"
BEST DOCUMENTARY
"Anvil!: The Story of Anvil"
"Capitalism: A Love Story"
"The Cove"
"Food, Inc."
"Tyson"
BEST ANIMATED FEATURE
"Coraline"
"Fantastic Mr. Fox"
"Ponyo"
"The Princess and the Frog"
"Up"
BEST CINEMATOGRAPHY
"Avatar"
"Bright Star"
"The Hurt Locker"
"Inglourious Basterds"
"Where the Wild Things Are"
BEST ORIGINAL SCORE
"Avatar"
"Fantastic Mr. Fox"
"The Informant!"
"Up"
"Where the Wild Things Are"
MOST PROMISING FILMMAKER
Neill Blomkamp, "District 9"
Scott Cooper, "Crazy Heart"
Cary Fukunaga, "Sin Nombre"
Duncan Jones, "Moon"
Marc Webb, "(500) Days of Summer"
MOST PROMISING PERFORMER
Sharlto Copley, "District 9"
Christian McKay, "Me and Orson Welles"
Carey Mulligan, "An Education"
Max Records, "Where the Wild Things Are"
Gabourey Sidibe, "Precious"