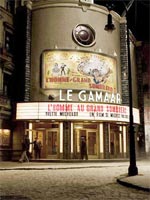 All cinéastes know that the annual Top 10 issued by Cahiers du Cinéma is pretty much the ne plus ultra of critics' lists. The legendary French film magazine has taste that veers from the rigorously auteurist (recent list-toppers include "Redacted," "Tropical Malady" and "Paranoid Park") to the frankly perverse ("Lady in the Water" made the 2006 list).
So when a comparatively mainstream Oscar frontrunner like "The Hurt Locker" crops up on this year's Cahiers list, you know it officially taken the mantle of this year's across-the-board critical darling.
This year's collective is a typically idiosyncratic affair, with an especially Gallic flavor: Alain Resnais tops the list, while eternally French-favored Yanks Tarantino and Eastwood feature highly.
Their Top 10 is after the cut (thanks to Auteurs Daily for the tip).
1. "Wild Grass" (Alain Resnais)
2. "Vincere" (Marco Bellocchio)
3. "Inglourious Basterds" (Quentin Tarantino)
4. "Gran Torino" (Clint Eastwood)
5. "Eccentricities of a Blonde-Haired Girl" (Manoel de Oliveira)
6. "Tetro" (Francis Ford Coppola)
7. "The Hurt Locker" (Kathryn Bigelow)
8. "The King of Escape" (Alain Guiraudie)
9. "Tokyo Sonata" (Kiroshi Kurosawa)
10. "Hadewijch" (Bruno Dumont)