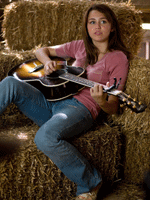 It's been fun bringing a great many of this year's Best Original Song contenders to you every few days with the "listen to" posts, but today, the Academy offered up the full list of contenders, so things are beginning to settle in.  There are a few surprises, however.
Firstly, only two tracks from "Crazy Heart" are on the list.  I'm not sure if that's because only two were submitted, but there are six solid original tunes on the soundtrack.  And four songs from "The Princess and the Frog" weren't on the list (one of them, "Friends on the Other Side," being one of my favorites from the film).  Again, I don't know if that's because only the four on the list were submitted.
Mary J. Blige's "I Can See in Color" from "Precious" is the most notable exclusion.  I guess it didn't play for long enough to be of any impact, but to my mind, it was one of the best songs in the hunt.
Then there's stuff from movies I've never heard of (uh, "Oy Vey!  My Son is Gay!," anyone?) and five — count 'em — five from the friggin' Hannah Montana flick.  Oy vey, indeed.
Mostly, I feel the same way about the category as I did when I analyzed it in last week's Tech Support column.  I think we're looking at two from "Nine," two from "The Princess and the Frog" and one from "Crazy Heart," but truth be told, I could see both "Crazy Heart" tracks getting in, too, so who knows?
Check out the Contenders section for the full list of eligible tracks.  We'll offer up one more for your listening pleasure on Friday before closing up shop on that front.