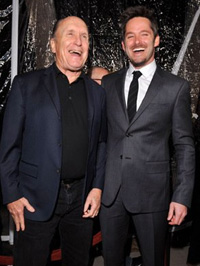 In a quiet corner of the Four Seasons restaurant late one afternoon, Robert Duvall gives "Crazy Heart" writer/director Scott Cooper a little grief for singing his praises too loudly.
"Oh, quit playing humble," he says. "Come on, man!"
Earlier, when Cooper tries to pass credit for his film's financing on to Duvall, the six-time Oscar nominee offers more of the same.
"I'm not so sure I believe that," Duvall says. "Maybe."
It's the standard back-and-forth between mentor and, for lack of a better term, protégé. Reverence and respect from the younger southern gentleman, sincere commendation and dismissed flattery from the older industry vet.
But that's their dynamic. Duvall, who never had children of his own, certainly seems to think of Cooper as a son. The director was married on Duvall's 360-acre property in the plains of Virginia. The two met as actors on  "Gods and Generals," worked together again on television's "Broken Trail" and, most recently, Aaron Schneider's "Get Low." And the truth is, "Crazy Heart" would have had a bumpy road to the screen if it was just Cooper out there banging on doors.
To his credit, Cooper knows it.
"We'd never get this film financed without Bobby," he says. "And actors like Jeff Bridges and musicians like T Bone Burnett are more likely to read your script if it's got Robert Duvall's name attached to it."
A fresh-faced 39-year-old first-time director, Cooper clearly has a passion for storytelling. He loves reading film criticism (though his mentor would beg to differ). He's given to quoting authors like Rudyard Kipling ("Success and failure are the same impostor") and, being an actor himself, he knows exactly what he's looking for when it comes to putting a movie together.
The film began as a Merle Haggard biopic. Cooper's father, who owned the Kodak racing team, introduced him to the musician at an early age.  Cooper spent some time on the "Super Chief," Haggard's tour bus, went to a number of shows at casinos, town halls, etc., and it was a fascinating life, one Cooper thought would make an equally fascinating film. But when there are seven or eight ex-wives involved, securing the proper rights can be a bit of a chore.
In Thomas Cobb's 1989 novel "Crazy Heart," Cooper saw an opportunity to tell some of Haggard's story through the journey of Bad Blake, a southwest-traveling country-western crooner who dives to the bottom of a bottle of McClure's Whiskey every night. And from the start, Cooper had his eye on Jeff Bridges for the role.
"As good an actor as Jeff is, he's a better guy," Cooper says. "You can't play the roles that he's played and not have a real humanistic side to him because he brings that to every role. And he's a musician. He has the same characteristics of two guys who I like who are prototypes: Waylon Jennings and Kris Kristofferson."
Duvall interjects: "Waylon would have liked this movie. That guy died too young."
"They lived hard, Bobby D.," Cooper responds. "They lived hard."
Cooper knew he needed a musical genius to make the film work, someone who could spearhead the writing and production of a number of original tracks that had to sound like absolute hits. But he also needed someone who could work with Bridges to find the sound and tone of Bad, since singing like Haggard wouldn't be in the cards for even the most gifted of actors.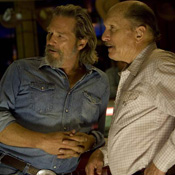 "Merle Haggard has, in my estimation, probably the best country voice of all time," Cooper says.
"Yeah, but his hero was Lefty Frizelle," Duvall adds. "He imitated Lefty. He told me once Lefty could sing out of his asshole! Merle's great."
So the script went out to T Bone Burnett early on. Talk to anyone who's worked with the multi-hyphenate and you're bound to hear the phrase "musical genius" pop up once or twice. Luckily enough, Burnett and Bridges are old friends going way back to "Heaven's Gate" nearly 30 years ago, and it was Burnett's involvement that got Bridges to finally commit.
"Yeah, once they got together, they looked hermetically linked," Duvall says. "They went off and just practiced and practiced. One time Jeff said, 'I think we have to postpone this movie. I'm not ready yet.'"
Indeed, Burnett told one of the financier's of the film early on that he would need more money for the music budget if he was going to get it right. And by all accounts, he got it right. But even more than the music, it seems Cooper was interested in nailing the authenticity of the life of a traveling musician.
If the word of Kris Kristofferson means anything, he should feel pretty good about how things turned out on that front. When Cooper took a print of the film to Austin, Texas to screen it for Kristofferson, the actor/musician abruptly left the theater when the credits rolled. Cooper didn't know what to say, what it meant. Kristofferson came back in wiping his eyes. "I just saw my life on that screen," he told the director.
Much of that could probably be due to the slow burn nature of the narrative. It is a film akin to "Tender Mercies" or "Nobody's Fool," an unfussy, and therefore, more satisfying film that owes a great deal to Cooper's patience as a director.
With that in mind, and certainly with Duvall involved, a number of parallels to the actor's Oscar-winning role were bound to pop up. It's obviously a film Cooper has a lot of respect for.
"One of the great things about Bobby's performance in 'Tender Mercies' is you don't see him sing a lot," Cooper says. "And when he does sing, he turns his back to the camera. Gorgeous moment. And Horton Foote was a huge inspiration there. I don't think anyone wrote American family and those dynamics as well."
Says Duvall, "He was the best. Horton was writing until he was 90."
"He's one of the most gentle human beings I've ever met," Cooper says. "Such a sweet guy. I would love for him to have seen this picture."
But even with certain parallels inherent between "Crazy Heart" and that "second cousin" to the film, as Cooper puts it, both men are quick to point out that it's not the same tale. Of course, they're right.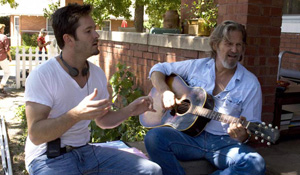 "It's different music," Duvall says to start. "There's more country blues and rock in this. 'Tender Mercies' was more country. Both guys are supposedly on the mend. My guy had a support system: a wife, stepchild and a baptism. Bad Blake doesn't have anything. His own son put him out. He's kind of out there on his own. In 'Tender Mercies,' being on the mend was more of a positive thing."
Says Cooper, "That's why I wanted Bobby to play the role, because he's the moral compass of the film. And I'd never seen Jeff Bridges and Robert Duvall share the screen. Get those two guys together and you'll create magic."
Duvall stars in the film as Wayne, a bartender buddy of Bad's who eventually plays a key role in the singer's road to sobriety. He doesn't have a lot of screen time but he squeezes so much out of every moment you'd think he appeared throughout. He has that effect. For another example this year, just see his sensational cameo in "The Road."
Cooper, bringing his sensibilities as an actor to the table, was concerned with properly casting the film. He didn't want it to have the high-gloss sheen that tends to be the standard. "There's nothing worse than seeing a film where everybody looks like they just stepped out of Soho or Tribeca," he says. "I wanted to cast faces, people you might find in a Dorothea Lang photograph, or Walker Evans."
Duvall was in on the casting process as well, lending a number of helpful tips along the way. One seems to have stuck with Cooper: don't be afraid of using non-actors.
"They don't have bad habits," he says, conveying Duvall's advice. "So we pulled people off the street."
Says Duvall, "Yeah, and once they step across that line and say, 'I'm going to do it,' they can be terrific."
Cooper was also adamant that not a lot of preparation with the actors went into the scenes, something actress Maggie Gyllenhaal (who stars as Bad's love interest in the film) was particularly appreciative of. And it's a philosophy Duvall clearly swears by.
"You start at zero and end at zero," Duvall says. "You don't have to get anywhere in a scene. If something's going to happen it'll happen."
Cooper nods his head in agreement. "When you come in and have a scene pre-planned, it's too stilted," he says. "But I didn't go to film school. I didn't know what to expect other than to, as Bobby would say, tell the truth."
And that's what "Crazy Heart" is: the truth as Cooper sees it. Moments live and breathe. Not every beat is played up for drama and, instead, serves as a platform for real emotions and authentic interaction. It's just not the kind of film you see anymore, which is a shame, because it illuminates one of the great American traditions: country music.
"There's a wonderful roughness to it," Duvall says in the press notes for the film. "It's an age-old story in some ways, but Scott looked at it freshly, and with a sense of truth and new dimensions people haven't seen before."
"Crazy Heart" opens in limited release tomorrow.