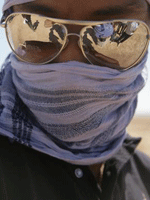 The New York Film Critics Circle decided not to announce its list of winners in real time this year, which is a shame because it has always been one of my favorite aspects of the season.  What we're left with is scattered press release reveals, Twitterers scooping the group's info as emails and phone calls circulated, and basically, the vibe that it's just another cog in the wheel.
And that's before you get to the absolutely uninspired list of winners.
Kathryn Bigelow's "The Hurt Locker" took down the Best Picture prize, joining the ranks of "Brokeback Mountain," "Sideways," "Saving Private Ryan," "L.A. Confidential," "Leaving Las Vegas," "Schindler's List" and "Goodfellas" (just to go back 20 years) with the designation of coming out on top with both the Los Angeles and New York critics.
The rest of the rundown is more of a snooze, other than George Clooney also being cited for "Fantastic Mr. Fox" along with "Up in the Air" for his Best Actor win.  "In the Loop" (a film with a popularity totally lost on me) nabbed the screenplay award, so I guess that's something new.
But honestly, the only award that made me say, "Nice," was the Best First Feature prize for Steve McQueen's "Hunger," which was released in Los Angeles last December and landed on my top 10 list as a result, but didn't make it to New York until 2009.
The full list of winners after the jump…
Best Picture
"The Hurt Locker"
Best Director
Kathryn Bigelow, "The Hurt Locker"
Best Actor
George Clooney, "Fantastic Mr. Fox" and "Up in the Air"
Best Actress
Meryl Streep, "Julie & Julia"
Best Supporting Actor
Christoph Waltz, "Inglourious Basterds"
Best Supporting Actress
Mo'Nique, "Precious"
Best Screenplay
"In the Loop"
Best Cinematography
"The White Ribbon"
Best Animated Film
"Fantastic Mr. Fox"
Best Non-Fiction Film
"Of Time and the City"
Best Foreign Language Film
"Summer Hours"
Best First Feature
"Hunger"
Check back later this afternoon for my list of the year's best films.