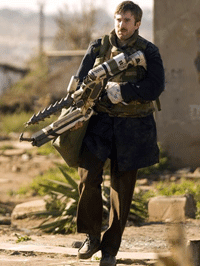 I've often been asked throughout the latter part of 2009 why I should have the gall to consider it the best year of film product in a decade. It's such a subjective circumstance that, of course, the only answer is, "I liked a lot of movies." That's not enough for most. Hard and fast evidence is necessary. A carefully outlined, persuasive argument is expected.
I just liked a lot of movies.
The year began slowly, as they tend to do. The first film I saw that cried for end-of-the-year remembrance was a modest baseball drama I caught at the Santa Barbara Film Festival in February. Then it was all the way into the summer before a blockbuster banged the first four-star gong, followed shortly by a happenstance viewing of an unconventional British biopic at the Los Angeles Film Festival and a catch-up viewing of one of the year's Sundance hits.
Sprinkled throughout was top-tier animated product, a Comic-Con screening of one of the best sci-fi outings in years (and a homefront viewing of another first-time filmmaker's fascinating foray into the genre), not to mention finally catching up with one of two exemplary war dramas that debuted in Toronto last fall.
Before long, the summer, with all its surprise delights, both substantial and appropriately frothy, began to wind down. The fall awards season picked up steam as Telluride fired the starting gun and, after that, it seemed every trip to a darkened theater brought some form of satisfaction.  Even the entertainments seemed to satisfy completely.
How can one defend the position any more succinctly? I liked. A lot. Of movies. And I relish the opportunity now to pay tribute to the year's best, some 30 titles, each of which could have been a top 10 finalist in any other year.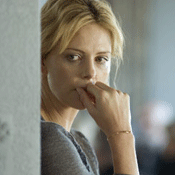 Filling out the field:
"THE BURNING PLAIN"
Guillermo Arriaga's measured character study is perhaps the writer's best work to date. Serving here as a first time director as well, Arriaga fends off derivation (though I'm sure many would disagree) and tells a fresh story.
"CAPITALISM: A LOVE STORY"
Michael Moore's latest documentary is much fairer than one might have anticipated, if still treading the expected stylistic territory. But this is what Moore does, and he does it well.
"A CHRISTMAS CAROL"
Robert Zemeckis's third performance-capture foray takes a number of steps forward. Though the filmmaker seems to be bringing up the rear of a field WETA is revolutionizing, there is plenty of room for his less sincere vision.
"CRAZY HEART"
Scott Cooper's two parts Merle Haggard, one part Thomas Cobb recipe served up the role of a lifetime for Jeff Bridges and the makings of a slow burn we don't often see. T Bone Burnett and his music crew deserve major commendation as well.
"DISTRICT 9"
Neil Blomkamp's alien saga, spun off of his own short film "Alive in Joburg," was of a piece with something of a banner year in sci-fi cinema. Sharlto Copley's lead performance is a star-making moment and a high water mark for the year in acting.
"FOOD, INC."
Robert Kenner's pull-back-the-veil study of a seemingly Machiavellian food industry might not be a seminal work, but it is a definitive one. Equally affecting and galvanizing, the film moves briskly and makes a compelling case from beginning to end.
"GOODBYE SOLO"
Ramin Bahrani's third effort to date isn't quite in league with "Chop Shop," but it does represent a benchmark in thematic maturity for the director. Souleymane Sy Savane's lead performance is one of the year's absolute best portrayals.
"THE INFORMERS"
Gregor Jordan's adaptation of a Bret Easton Ellis novel is surprisingly effective with its mishmash of tone and genre. Absurdist on one hand, oddly penetrating on the other, the film is a seductive study of youth wasted on the young.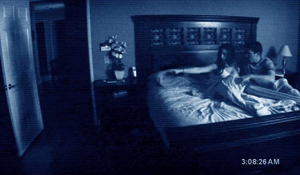 "JULIE & JULIA"
Nora Ephron's dual biopic comedy is a skillful navigation of two pre-existing works that maintains its balance throughout. Meryl Streep's oft-praised turn as Julia Child perpetuates her level of consistency as of late.
"PARANORMAL ACTIVITY"
Oren Peli's "found footage" thriller is the most arresting of its kind, a twisted take on what initially seems to be a haunted house yarn. Creative practical effects and effective sound editing sell the suspense perfectly.
"PUBLIC ENEMIES"
Michael Mann's sleek-noir character study gives Johnny Depp a prime opportunity as legendary criminal John Dillinger, one the actor nailed even if he admits he didn't quite have a handle on it. Co-star Marion Cotillard also shines in a strong female role.
"SHERLOCK HOLMES"
Guy Ritchie's agile adaptation of Sir Arthur Conan Doyle's work serves up a surprisingly satisfying buffet of action, wit and even performance value. Robert Downey Jr. and Jude Law spark unmistakable chemistry throughout.
"UNDER OUR SKIN"
Andy Abrahams Wilson's exposé on the worldwide epidemic of Lyme disease serves as both cautionary, informative cinema and indictment of a complicit health care industry. A cross-section of study cases makes for a compelling through-line.
"UP"
Pete Docter's latest Pixar effort is a home run for mature animated storytelling. An outrageous sense of humor and compelling thematic ideas serve as the mortar for an imaginative, moving narrative that might be the studio's funniest offering yet.
"ZOMBIELAND"
Ruben Fleischer's genre installment takes zombie cinema to a new, exciting level. A creative screenplay and an overall non-traditional handling of the material makes for one of the more enjoyable movie experiences of the year.
Oh so close:
#15
"THE HURT LOCKER"


Kathryn Bigelow's direction of a meticulously detailed, yet philosophically ponderous Mark Boal screenplay makes for an engrossing account of war. Jeremy Renner owns the screen with a thoroughly lived-in portrayal.
#14
"THE MESSENGER"


Oren Moverman's account of casualty notification officers is raw and powerful, a cut above most depictions of the modern military conflict. The film's ensemble is perhaps the year's best, performing fascinating vignettes of a grief-stricken nation.
#13
"MOON"


Duncan Jones's feature debut sports a tour de force performance from Sam Rockwell and a sci-fi narrative that is remarkably relevant. The film's grasp of humanity amid futuristic notions makes for a premium payoff.
#12
"SUGAR"


Anna Boden and Ryan Fleck's "Half Nelson" follow-up is a step forward for the duo, a fascinating look at America as a foreign land through the eyes of a fresh-faced Dominican baseball recruit. Newcomer Algenis Perez Soto is a spectacular find.
#11
"STAR TREK"


J.J. Abrams's reboot of the popular television series is more of a creative detour that mercifully spares decades of continuity and plants the seeds of further adventure. It's also an engaging piece of popcorn entertainment.
The top 10:
#10

"THE LOVELY BONES"
Directed by Peter Jackson
Perhaps the most unfairly maligned film of the year turned out to be a martyr for uncompromising artistry and visionary storytelling. Director Peter Jackson adapted Alice Sebold's "The Lovely Bones" as an exercise in the power of suggestion, testing the boundaries of what's possible in the filmmaking medium. An arresting performance by Stanley Tucci and a delicate handling of the lead role by youngster Saoirse Ronan are accompanied by expert photography from lenser Andrew Lesnie and the most effective sound design of the year.
#9

"BRONSON"
Directed by Nicolas Winding Refn
Every once in a while a completely unexpected cinematic experience comes along. This year, Nicolas Winding Refn's "Bronson," with its outrageous visual treatise on coveted celebrity featuring a blistering lead performance, was that film. Actor Tom Hardy owns both role and screen with a brilliant, committed portrayal, but Refn's expressionistic vision makes for a fascinatingly creative portrait, an unsettling sort of reverence seeping through that ultimately becomes the chilling point. If there is a true champion of the 2009 indie circuit, this might be it.
#8

"MARY AND MAX"
Directed by Adam Elliot
In a banner year for animated feature filmmaking, perhaps the best of all time, a single effort stood head and shoulders above the rest of the field. With "Mary and Max," writer/director Adam Elliot has crafted a bittersweet tale of friendship and empathy, refreshing in its non-traditional storytelling approach and featuring a pair of voice performances from Philip Seymour Hoffman and Toni Collette that melt the heart and sell the narrative effortlessly. The claymation itself is gorgeous, making for a beautiful color palette.
#7

"AN EDUCATION"
Directed by Lone Scherfig
Author Nick Hornby's work has been the stuff of movies for a number of filmmakers along the way, but he didn't find screenwriting success himself until journalist Lynn Barber's memoirs crossed his path. The result is "An Education," a social and character study that also happens to be a love letter to the bliss of youth, and how precious it is. The material is handled immaculately by Danish Dogme95 vet Lone Scherfig. In the lead role, Carey Mulligan manages an authentic, head-spinning portrayal joined by one of the year's finest ensembles.
#6

"PRECIOUS: BASED ON THE NOVEL 'PUSH' BY SAPPHIRE"
Directed by Lee Daniels
For those willing to consider Lee Daniels's "Precious" on levels other than the literal, a rewarding, eclectic piece of cinema is in store. Spinning off of Sapphire's "Push," Daniels conveys heavy thematic notions with the swift agility of the avant-garde. He taps into a fierce rhythm, every shot and cut in service to something greater than the part. Most attention has been paid to Mo'Nique's vile portrayal of a wounded soul revisiting her psychological despair on her daughter, but it's Gabourey Sidibe's feature debut that deserves the lion's share of accolades.
#5

"AVATAR"
Directed by James Cameron
It is almost unbelievable that director James Cameron was able to deliver on the seemingly unsustainable hype leading up to the unveiling of "Avatar." A decade in the making and sporting a significant price tag, the film is the very essence of ambition…and fulfilled promise. To say it is a milestone in cinema history would both understate the implications and overshadow the fact that it is a beautifully realized piece of metaphorical storytelling. The movie-going experience of a generation has once again been defined by a meticulous craftsman.
#4

"THE COVE"
Directed by Louie Psihoyos
Documentaries can be informative, inspiring calls to arms or delightful profiles of individuality. But the art of telling a non-fiction narrative effectively can be as challenging as spinning a yarn from whole cloth, if not more so. With "The Cove," filmmaker Louie Psihoyos, along with a brave crew and tenacious activist Ric O'Barry, has crafted a landmark of the genre, a tense espionage saga with justice in its sights. The film is a definitive indictment of animal cruelty, yes, but it is also a thorough exposé of health concerns and corruption.
#3

"ANTICHRIST"
Directed by Lars Von Trier
All filmmakers reveal something of their souls when moving images are committed to film, but none seemed to utilize the medium to the point of catharsis in 2009 like Lars Von Trier. "Antichrist" is his psychotherapy writ large on a gorgeous canvas of despair and suffering, a metaphorical masterwork misunderstood and dismissed as sensationalist. This is what filmmaking can be at its purest artistic best, a profound expression of the power of self over trauma and the destructive capabilities of outside influence and perspective on that recuperation.
#2

"UP IN THE AIR"
Directed by Jason Reitman
Second-generation filmmaker Jason Reitman continued a stellar latter-decade start to his career in features with "Up in the Air," a zeitgeist-engaging study of selfishness and connectivity. The film is at once a sophisticated character piece and a comedic star vehicle that works on Hollywood's terms. In so many words, it is a miracle hybrid of art and commerce. But it is also a treatise on the steady decline of tangible human interaction, and as such, a socially relevant piece of cinema in entertainment's clothing. It will define Reitman and his work forever.
#1

"A SERIOUS MAN"
Directed by Ethan Coen, Joel Coen
The best film of the year is perhaps one of the best films of the decade. The Coen brothers, Ethan and Joel, made considerable waves two years ago with an Oscar-winning adaptation, but it is the more abstract, thematically refined original work "A Serious Man" that became the duo's best film in 13 years. A fatalistic depiction wrapped in a Job story and smothered with Jewish theology, the film is also curiously universal and penetrating for its insistence on a world as perfectly ordered as it is maddeningly, punishingly random.
That wraps up the way I saw the year. For you, it may have been a weak 12 months. For others, maybe only slightly above average. For me, following what was undeniably (I think most would agree) one of the weaker years of the decade, it was refreshing to end things on such a glorious high note. I will remember it fondly.
The top 10 films of 2009:
1. "A Serious Man"
2. "Up in the Air"
3. "Antichrist"
4. "The Cove"
5. "Avatar"
6. "Precious: Based on the Novel 'Push' by Sapphire"
7. "An Education"
8. "Mary and Max"
9. "Bronson"
10. "The Lovely Bones"
(Note: This year-end wrap-up column is taking the place of the usual Monday Off the Carpet column. I'll be updating the sidebar predictions later this afternoon. Be sure to check back Wednesday for my annual "if I had a ballot" post.)
What are your favorite films of 2009?  Have your say in the comments section below!