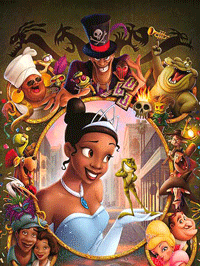 *All historical figures cited are adjusted to today's dollars.
Disney tasted a bit of its old early-1990s magic with the number one finish of "The Princess and the Frog" this week. The hand-drawn toon grossed $25 million after two phenomenal weeks in New York and Los Angeles only. "The Little Mermaid," "Beauty and the Beast" and "Aladdin" all had similar Holiday season launches and only "Aladdin" went wide with a bigger total.
Of course, all three were on far fewer venues than the 3,434 of "The Princess and the Frog," but this is still a very encouraging figure.  Family entertainment is solid gold during the two weeks around Christmas and a finish well over $100 million should be no problem. These aren't Pixar numbers, but they at least match up to "The Hunchback of Notre Dame," "The Fox and the Hound" and other second-tier Disney classics. Or is that third-tier?
"The Blind Side" takes second place with another $15.5 million and cruises past the $150 million mark. Another $3 million and it will pass "Remember the Titans" for the title of highest grossing sports drama since "Rocky." The $246 million it would need to pass "The Waterboy" for the title of highest grossing football movie may be out of reach, but let's all pause for a second to digest the fact that "The Waterboy" made $245 million.
"Invictus" takes third place with a soft $9.1 million. Reviews are kind enough that it should play well through Christmas and still hit $40 million, but after "Gran Torino," that's chump change for Eastwood. I imagine he's growling to himself somewhere about this. That or he's finishing post on two more features.
"Brothers" dropped 48% to $5 million and sixth place, "Armored" fell 46% and "Everybody's Fine" is out of the top 10 as all three compete to be December's most forgettable title.
"A Christmas Carol" held the strongest, riding the countdown buzz to Jesus's big day and sliding only 12%. That's six straight weeks in the top five so far and the film has quietly amassed $125 million with more to come.
Just missing the top 10 is "Up in the Air," expanding slightly to 72 screens. A spectacular $34,028 per theater average gave it $2.5 million and the film looks like the Oscar season's limited opener that is most likely to succeed in wide release. If my hunch is correct, the film will land at the top of Kris's personal top 10 and that's worth another $10 million or so at the box office by my estimation.
"The Lovely Bones" only managed a $38,667 per-theater average on three screens in week number one, which is a bit surprising. It's obviously nothing to sneeze at, but that puts it in the same league as "(500) Days of Summer" and "Whatever Works," not "Precious" or "Up in the Air." The film isn't scheduled to go wide until January 15 and if the numbers don't hold up, that may already be too late.
"A Single Man" also started well, but not spectacularly with $216,000 from nine screens. Both of these films will need serious critical and awards traction to make an impact over the next few weeks.
I saw two films this week, "Me and Orson Welles" and "A Single Man." I thought the former was entertaining enough but have to disagree with the critics on the performances. Christian McKay does a dead-on Welles, but he can't sell his dramatic beats. Efron, on the other hand, was fantastic.  The latter I straight up hated. Other than points for ambition, I can't find a single thing to like about it.
What do you guys think?  Here are the weekend's top domestic grossers, courtesy of Exhibitor Relations: