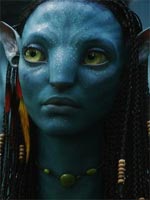 Note to all the critics' groups out there: yesterday was a quiet day. Did none of you think to announce your awards then, getting a little more individual attention in the process? Talk about a pile-up.
Anyway, the New York Film Critics Online just revealed their selections, and while they're not the most influential group out there, there's good news for those hoping for a blockbuster presence in the awards season — and a battle of the exes on the Best Director front.
Side note for fellow fans of Tilda Swinton's performance in "Julia": apparently she was Meryl Streep's nearest competitor for Best Actress, though voter Katey Rich of CinemaBlend speculates that some critics voting hadn't seen the film. Sigh. Still, nice to see her crop up in some way.
A full list of winners is after the cut. (Thanks to assorted commenters, and Katey again, for furnishing us with details.)
Best Picture: "Avatar"
Best Director: Kathryn Bigelow, "The Hurt Locker"
Best Actor: Jeff Bridges, "Crazy Heart"
Best Actress: Meryl Streep, "Julie & Julia"
Best Supporting Actor: Christoph Waltz, "Inglourious Basterds"
Best Supporting Actress: Mo'Nique, "Precious"
Best Screenplay: Quentin Tarantino, "Inglourious Basterds"
Best Foreign Language Film: "The White Ribbon"
Best Documentary: "The Cove"
Best Animated Feature: "Up"
Best Cinematography: Robert Richardson, "Inglourious Basterds"
Best Music: T-Bone Burnett and Steve Bruton, "Crazy Heart"
Best Ensemble: "In the Loop"
Best Debut Feature: "(500) Days of Summer"
Best Breakthrough Performer: Christoph Waltz, "Inglourious Basterds"
Finally, their top 11 films (borrowing the same illogical Top 10 approach as the NBR), in alphabetical order:
"Adventureland"
"Avatar"
"Fantastic Mr. Fox"
"The Hurt Locker"
"Inglourious Basterds"
"The Messenger"
"Precious"
"A Serious Man"
"Two Lovers"
"Up"
"Up in the Air"