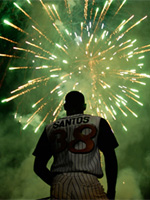 Jeez, give us some breathing room. Anyway, the American Film Institute has revealed their annual selection of the year's best U.S. titles, and as usual, it's a pleasingly diverse, idiosyncratic list.
My heart sings to see Anna Boden and Ryan Fleck's marvelous "Sugar" make the cut, at the expense of heavily-hyped titles like "Invictus" and even "Avatar" — Anne Thompson reports the latter got a special citation for technical achievement, though it's not in the press release.
From an awards-watcher's perspective, however, the most interesting inclusion here might be "The Messenger," whose higher-than-expected precursor profile suggests some may be underestimating its Oscar potential.
Those looking for correlation with the Academy's eventual Top 10 should bear in mind that a foreign title like "An Education" isn't eligible for inclusion here. Even so, I'd say there are plenty of American titles not included here that are more likely to land Best Picture nods than, say, "The Hangover."
But that's the beauty of the list — it's always a joy to see a set of year-end honors with more on its mind than mere Oscar prognostication. Check out the full Top 10 after the cut.
AFI MOVIES OF THE YEAR
"Coraline"
"The Hangover"
"The Hurt Locker"
"The Messenger"
"Precious"
"A Serious Man"
"A Single Man"
"Sugar"
"Up"
"Up in the Air"
Finally, if you're interested, this is the rather formidable jury responsible for assembling the above list:
Norman Jewison (chairman)
Sean Astin
Dustin Lance Black
Leo Braudy
Mark Harris
Patty Jenkins
Leonard Maltin
Elvis Mitchell
Chon Noriega
Tom Pollock
Claudia Puig
Richard Schickel
Lisa Schwarzbaum