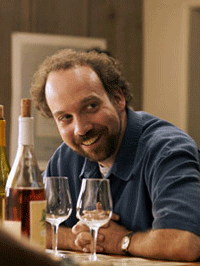 In Alexander Payne's "Sideways," Paul Giamatti gave the best performance by an actor in 2004, so said the New York Film Critics Circle, and how right they were.  So why, why, why was the actor denied an Oscar nomination?  Granted, it was a strong year, but his work was at the top of that heap and that snub was one of the biggest shocks of the year.
Here was a man giving perhaps the finest performance in a comedic film since Dustin Hoffman in "Tootsie." His co-stars go were recognized, save for the equally deserving Sandra Oh, but the leading man, around whose performance the film stands, is snubbed.  All I can remember saying is: "Wow."
Certainly Jamie Foxx deserved the attention he received for "Ray" and Leonardo DiCaprio was astonishing in "The Aviator," even though he drew some criticism for before too youthful in the role. Rubbish, I thought.  He was superb, inhabiting Howard Hughes as he must have been in those days, brash, cocky, wealthy and willing to do anything that interested him.
Clint Eastwood was terrific in "Million Dollar Baby," while Jim Carrey gave a wonderful performance in "Eternal Sunshine of the Spotless Mind" — a marvelous piece of acting, in fact.  Equally fine, and dark, was Kevin Bacon as a pedophile struggling to start anew in "The Woodsman," which was one of the most daring American films in a long time.
Sean Penn was sublime in "The Assassination of Richard Nixon," as was Gael Garcia Bernal as a young Che Guevera in "The Motorcycle Diaries," each worthy of Oscar attention.  Elsewhere there was Jeff Bridges in "The Door in the Floor" and Javier Bardem in "The Sea Inside," which was among the finest performances of the year…easily!
Tom Cruise gave a brilliant performance in "Collateral" as a ruthless hit man (and was snubbed), and I like that the Academy noticed Don Cheadle in "Hotel Rwanda." However, I really struggled with Johnny Depp's nomination for "Finding Neverland."
Liam Neeson gave his best performance in years in Bill Condon's "Kinsey" and seemed nomination-bound out of Toronto, though the gas ran out of his campaign.  And for me, aside from Giamatti, the great acting performance of the year was Bruno Ganz as Adolf Hitler in "Downfall." Ganz brought humanity to the role of Adolf Hitler, making this monster just a poor, pathetic man, flesh and blood in front of us on screen. It was a miraculous performance.
And poor Bill Murray, one year after giving the performance of his career in "Lost in Translation," gives another very good one in "The Life Aquatic with Steve Zissou" — and is snubbed. Too bad.
While critics were falling over themselves looking for new superlatives to describe Hilary Swank's work in "Million Dollar Baby," the great Kate Winslet was giving an astonishing performance in "Eternal Sunshine of the Spotless Mind," reminding us that she is the greatest actress of her generation. Swank won the Oscar, her second (incredibly), over formidable competition, including the wonderful Winslet.
After Toronto, the smart money had been put on Annette Bening in "Being Julia" as an Oscar favorite, with strong support for Imelda Staunton in "Vera Drake," which won the lion's share of critics awards. Ignored but hardly forgotten were such performances as Anne Reid's in "The Mother," Julie Delpy's in "Before Sunset" and Nicole Kidman's astounding, haunting work in "Birth."
It was thrilling to see the Academy take note of Catalina Sandino Moreno in "Maria Full of Grace," but where was Audrey Tautou for her luminous work in "A Very Long Engagement?" Such a brilliant piece of acting.  And did people totally forget about the astounding, risk-taking performance Julia Roberts gave in "Closer?" And Uma Thurman was brilliant one more time in "Kill Bill: Vol. 2."
Cate Blanchett won the Academy Award for Best Supporting Actress for her uncanny performance as Katharine Hepburn in "The Aviator." She was terrific.  But so was Virginia Madsen in "Sideways," a hypnotic performance so full of life and mystery. Her partner in crime in the film, Sandra Oh, was not even nominated.
The great Meryl Streep was snubbed for her quietly vicious performance as a dangerous senator in "The Manchurian Candidate." Many critics drew parallels between Hilary Clinton and Streep's character, a notion the actress called "cheap and cruel," though watching the film, it is diffuclt not to see something to that.  Streep does more in this film by lifting an eyeborw than some actresses do with lines and lines of dialogue. Never before had she been so deadly on film.
Laura Linney was wonderful in "Kinsey" as she stole every single scene she was in, and was rewarded with a nomination for her performance as the good doctor's long-suffering wife.  Meanwhile, Natalie Portman was daring and heartbreaking in "Closer," offering the finest work of her career.
I quite liked Kim Basinger's devastated wife in "The Door in the Floor" as well as Paz Vega's pretty housekeeper in "Splangish" (as well as Tea Leoni and Cloris Leachman from the same film).  Kate Winslet was having a banner year, doing brilliant supporting work in "Finding Neverland," a film that also saw a wonderful supporting performance from Julie Christie.
For sheer facial and body language performance, both Monica Bellucci and Maia Morgenstern in "The Passion of the Christ" were extraordinary, and one has to wonder how the Academy missed Irma P. Hall for her delightful work in the Coen brothers' "The Ladykillers." She stole the film from a showboating Tom Hanks.
Though she was the lead, Bryce Dallas Howard was campaigned in the supporting category for her luminous performance in "The Village." And you know what?  I loved Daryl Hannah in "Kill Bill: Vol. 2" and would have liked to have seen her nominated.
In the Best Supporting Actor category, I saw no better performance than Thomas Haden Church's in "Sideways" as Gimatti's horn dog best friend who ends up in all sorts of crazy situations. However, when Morgan Freeman was nominated for "Million Dollar Baby," that Oscar was his. It offered the Academy a chance to honor him for his body of work and give him what he should have won for "The Shawshank Redemption."
Jamie Foxx would win the Best Actor race for "Ray" but he also earned a supporting nod for his cabbie Max in "Collateral," while the great Alan Alda would be nominated for his treacherous senator in "The Aviator." But certainly Peter Sarsgaard should have been among the nominees for "Kinsey," along with Timothy Hutton for the same film, as each actor delivered fine performances.
Clive Owen was nominated for "Closer," which was one of the year's most deserved nods, but one has to wonder why Jude Law, equally fine, was left off the list.  I quite liked Nick Nolte's work in "Hotel Rwanda" as well as David Carradine for his menacing Bill in "Kill Bill: Vol. 2." Alfred Molina's super villain Dr. Octopus in "Spider-Man 2," meanwhile, went beyond the usual.
Finally, I also greatly enjoyed Liev Schreiber in "The Manchurian Candidate," though he was wiped off the screen everytime he shared a moment with Streep, as were they all.
Those are my thoughts on the great performances from 2004, but what about you?  Have your say in the comments section below!