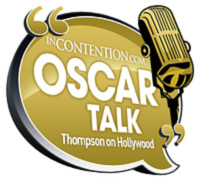 Welcome to the latest installment of Oscar Talk, your weekly kudocast with yours truly and Anne Thompson of Thompson on Hollywood.
This week's discussion is pretty much dominated by the unveiling of, arguably, 2009's most anticipated film. So with that in mind:
• Anne and I discuss the joy of James Cameron's "Avatar," including everything from technical wizardry, the film's milestone status in the history of cinema and, of course, awards prospects.
• With the critics' awards kicking off this weekend, starting Sunday with the Los Angeles Film Critics Association's list of kudos, we speculate on which films could get recognition and which films need the leg up.
• Top 10 lists are hitting and Anne just published hers, so that's food for thought. Mine will hit Monday.
• Briefly we preview next week's list of key dates, which include the BFCA, Golden Globe and SAG nomination announcements.
Have a listen to this week's podcast below. Apologies for the audio on Anne's side of things. It sounds a little muffled because we couldn't get her external mic to work. Roll with the punches.
Oh, and as always, you can subscribe to Oscar Talk via iTunes here.
[display_podcast]