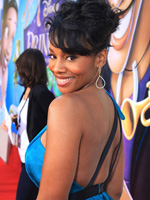 Wednesday we featured Dr. John's "Down in New Orleans" from Disney's traditional animation entry "The Princess and the Frog," which is expanding considerably this weekend.  Today we're happy to offer up what could be the second-best play at a nomination for the film in this category, "Almost There."
Singing on the Randy Newman-penned track is Anika Noni Rose, who of course performs the voice of Tiana, the princess of the film's title.  There isn't much to be said about the song itself except that it's a typical piece of break-out-into-song fluff that happens to come during a fairly key moment (and, therefore, has a leg up given the voting practice of viewing clip reels for the contenders).
Newman has also said this and "Down in New Orleans" are the best songs from the film, though Ne-Yo's "Never Knew I Needed" and Jim Cummings's "Ma Belle Evangeline" (a really fun tune) are also getting some campaign focus.  But have a listen to "Almost There" below and tell us what you think.
[display_podcast]