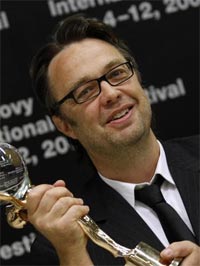 Two striking films in this year's Best Foreign Language Film Oscar race probe the theme of moral drift, both individual and communal, bred in a rural European community – the very opposite of what Hillary Clinton meant by "It takes a village."
One of them, Michael Haneke's "The White Ribbon," you've probably heard of. The other you'll hopefully hear much more about in the months to come: Danish entry "Terribly Happy" is a terrific thriller from Oscar-nominated writer-director Henrik Ruben Genz that has taken its homeland by storm and is ripe for a U.S. remake.
A wickedly comic flipside to Haneke's solemn social critique, Genz's film trades in twisty suspense and coal-black humor as it follows the misadventures of Robert (Jakob Cedergren), a mysteriously disgraced Copenhagen cop reassigned to an unwelcoming one-horse town with its own share of nasty secrets.
As Robert gets drawn into the void by a hesitant relationship with abused housewife Ingerlise (Lene Maria Christensen), the film has drawn comparisons to the Coen Brothers of "Blood Simple" and even the David Lynch of "Twin Peaks" in its cool unveiling of the macabre within the mundane.
Still, as often as those directors' names have been repeated to him in interviews, genial 50 year-old Genz had a different set of references in mind when he started work on the film – which began as a story verbally related by novelist and childhood friend Erling Jepsen.
"Erling described it from the start as a kind of Western, and that's how I saw it as I wrote the treatment," he says of the film, which evokes the classic American genre via its good-versus-evil narrative triggered by a stranger's arrival in town, as a well as a host of playful visual cues. "Even the landscape: that flat, grey region of Denmark, it's like American prairie land. Obviously, it's a thriller too. I'm not afraid of mixing genres – they shouldn't be taken too seriously."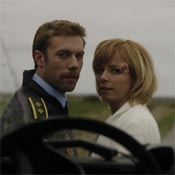 That "flat, grey region of Denmark" in which the action unfolds is actually an evocation of the village in which Genz and Jepsen both grew up; Jepsen's novel was inspired by real-life crimes from their childhood years. (Genz details the parallels to me, but implores me not to share them – the film's twists are best discovered unassisted.)
"Erling lived across the street from me as a boy, and even then, he had this talent for telling stories, usually very dramatic, frightening ones. I tell him, as a kid, he traumatised my life with his stories!"
Decades later, Jepsen hadn't lost his grip on the filmmaker. "When he told me the story that would become 'Terribly Happy,' I was immediately grabbed, and could immediately relate to it. There's a theme of exile, and of social belonging, running throughout my work. Robert in a sort of exile."
It's a situation the director has some personal affinity with, albeit in reverse. "In a way, I'd made the opposite journey to Robert in my life: going from a tiny village to Copenhagen, trying to find a place there. So I was interested to tell a story about a guy's struggle to find his feet in the landscape, the balance between doing things by the book while still trying to fit in."
Genz may be revisiting the landscape of his youth on film, but it's far from a nostalgic exploration. "The story is exaggerated, of course, but there's realism in the portrayal of that community," he says. "And the reality, for me, is a kind of mental and economic poorness. Many of these working villages have very set ways; they're not accepting of new ideas, or of outsiders."
It's this social aspect that Genz feels lends universality to the story, despite its unusual milieu. He's not the only one: Hollywood remake buzz is already circling around the film, with producer (and head of the Academy's foreign-language committee) Mark Johnson linked to the project. Genz insists the remake is "some way from being confirmed," but isn't averse to the idea of helming it himself.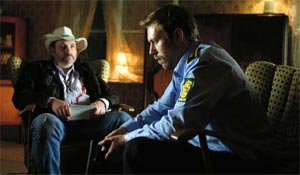 "I would definitely do the remake, but only if there was a new artistic challenge involved," he says. "There would have to be new things to explore in the characters, so if I have some control in adapting the script to an American context, then I'd be interested. I'd want to make it an even better film."
Genz's willingness to cross the ocean (and even revisit his own work) chimes in with that of his lifelong hero Alfred Hitchcock – another key influence on "Terribly Happy," which features a sly homage to the crossroads scene of "North by Northwest," among other visual and narrative hat-tips.
He continues: "As glad and proud as I am to be compared to people like the Coen brothers, Hitchcock is my deepest and first inspiration. I wasn't allowed to see his movies as a little boy, which only increased my fascination. When I became a director, my dream was to make an Alfred Hitchcock film – in a more modern visual language."
Allowing for its Scandinavian pallor and the odd Stetson hat, he may just have made that. Take note, Academy.