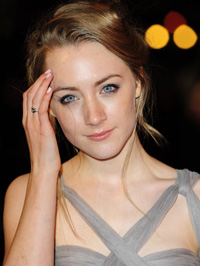 Still fully engaging at the end of a long day of interviews, actress Saoirse Ronan seems as eager to dive into the particulars of Peter Jackson's latest film, "The Lovely Bones," as she might have been before being asked every question in the book. Her energy is undeniable, as well as her poise, a young actress grounded but hungry for challenging work.
Her performance in Jackson's film is a considerable notch in the 15-year-old's early career. As Susie Salmon, the ill-fated youth at the center of Alice Sebold's best-selling novel, Ronan had to go places she certainly never has as a performer. But the working environment and relationship her director developed on the set deserves a great deal of the credit, she says.
"I don't think I could really label what I've learned from Pete," Ronan says. "I was with him for about nine months and being with someone like that every day that gets the best performance out of you that I can give makes you work hard as an actor and therefore makes you grow as an actor, and hopefully makes you a better actor. So I suppose you could say he's made me a better actor."
Ronan was particularly fond of Jackson's upbeat, energetic approach to the work. And it is fair to say it was, as far as she is concerned, a non-traditional environment, but at the start of her career, she embraces the idea of eschewing the typical, just as Jackson has.
"I love how Hollywood hasn't affected him in any way," she says of her director. "He's still the Kiwi who experiments with this camcorder or whatever, the little lipstick camera that he uses, and I think he's always going to go back to that. And I never thought that somebody talking to me while I'm trying to act would actually help."
Mainly Ronan is referring to a key scene in the film when Susie discovers her life, everything she is and everything she is going to be, has been taken by the villainous Mr. Harvey (played by Stanley Tucci). It's an abstract scene, one of many that moves away from Sebold's work in a boldly creative direction.  Jackson played haunting cues from Howard Shore's "Seven" score at high volume while barking at the young actress in order to amp up the emotion.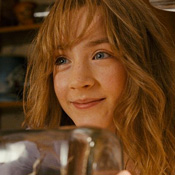 "That was a hard scene to shoot," she says. "It was the most intense scene that I did in the whole film. When I read it in the script, I didn't really know what Pete was going to do with it. He started shouting at me and saying, 'Scream! Scream your lungs out! This guy took your life!" And he was just fueling this and he was so passionate about it. Even talking about it now I feel that way."
It's a long way from her modest beginnings acting in her father's short films back in Ireland. Ronan was born in New York but moved to Carlow in the Southeast of Ireland when she was about 3 years old. She said she was like most kids, playing with dolls and making up storylines. "Polly Pocket had an affair with Woody from 'Toy Story,' things like that," she says.
There was one day in particular that sticks out as a moment in the actress's mind as indicative of the fact that she was meant for this work.
"I remember I did one day on this short Dad was doing and there was this actor who was talking," she remembers. "I was only, like, 6, and he kept talking and talking and talking and apparently I just went, 'Shh! Quiet on the set!' I don't know whether that's what fueled Dad to think I'd be good at it but I suppose I've always felt comfortable on sets, something that feels natural."
The first time Ronan found herself in what she calls a "professional acting environment" was when she was about 8. She says she didn't really have much of an interest before but her father thought she might take to it. At first it was just something she enjoyed, more for the people she was working with than what she got from performing itself. But when director Joe Wright came calling, things began to change.
"When I got to the stage of 'Atonement,' it really tested and challenged me," Ronan says. "I was working with some really top-class people. And Joe is a really great director. From that point onward I thought, 'Maybe this should be my job. I know I can't give it up now.' I felt that passionate about it. I couldn't imagine leaving it."
That performance secured her an Oscar nomination for Best Supporting Actress and, of course, caught the attention of Peter Jackson.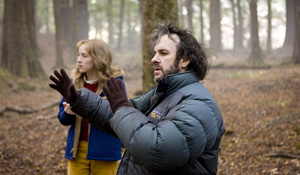 One of the most discussed scenes of "The Lovely Bones" is the moment Mr. Harvey lures Susie to an underground cell and, ultimately, her doom. The scene took about a day and a half to shoot, longer than Ronan expected. And she had a pretty bad cold at the time, one of the worst she says she's ever had.
It was about three months into the shoot and, for obvious reasons, one anticipated with great anxiety, given the dramatic beats involved. But Ronan says she relished the tension of the scene while performing it.
"Every scene I had with Stanley was intense, as you know," Ronan says. "It's not going to be happy. But I just love the way it drags on like that and the audience just knows what's going to happen. I didn't find it as difficult to handle as Stanley did, and I don't mean on a performance level, but just the subject matter. Because he's a father himself and he's just so nice. I enjoyed doing it and I sort of enjoyed being freaked out by this man."
It's really of a piece with the film itself, a meticulous work concerned with the power of suggestion and the artistry of visual storytelling. Dark and disturbing subject matter or not, Jackson wanted to do something more difficult with the material, more visionary. And that passion for the work translated to Ronan's handling of the material as well. Even now, she is clearly in awe of a filmmaker willing to push those boundaries in the service of something more affecting.
"I remember looking at him one day on set and he was just in a completely different world," Ronan says of Jackson. "He was just staring off into space and I could just imagine all of these ideas whirling around in his head. He had so much that he had to think about, and only some of that comes out verbally.
"The rest is on screen."
"The Lovely Bones" opens in limited release today.