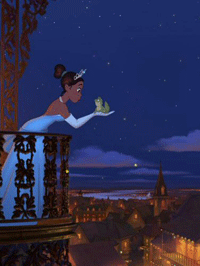 *All historical figures cited are adjusted to today's dollars.
We are only one week away from the day that movie-going is changed forever so why even bother seeing anything now? I can't be hassled by anything in only TWO dimensions! I didn't buy these designer 3D/sunglasses for nothing!
Disney really emphasizes the 2D this weekend with the wide launch of "The Princess and the Frog," the studio's first non-computer animated title since "Home on the Range" in 2004. That modest film grossed $57.8 million, despite ingeniously casting Roseanne as a cow, but the damage had already been done by "Treasure Planet" two years before.
Intended to be Disney's huge Thanksgiving family film, that flick grossed a terrible $46.9 million and effectively closed down the production house. Ironically enough, it's John Lasseter who is spearheading the renaissance and the grosses here will go a long way towards deciding the future of the medium.
Two weeks of exclusive engagements in New York and Los Angeles have been a gold mine and "A Christmas Carol" and "Planet 51" will not be offering much competition. "The Blind Side" might be the only obstacle in the way of a really large opening but I think this should be the number one film easy and earn $32 million or so. I know I'll be there.
Clint Eastwood's ninth movie of the decade, "Invictus," is our only other new release. Like "Million Dollar Baby" and "Gran Torino" before it, the film arrives with Oscar buzz not because of festival screenings, but simply because it's Eastwood. Early reviews, including Kris's, have been mixed at best and check out this little bit of fun trivia: Average gross of the aughts' Eastwood films that star Eastwood? $103.4 million. Average gross of the aughts' Eastwood films that don't feature his pretty face?  $48.2 million.
Matt Damon and Morgan Freeman certainly provide some star power but we already have one multi-racial, inspirational sports drama in the market and you don't mess with Bullock these days. I think this will walk away with $11 million over the weekend.
"The Lovely Bones" opens in three theaters and "A Single Man" hits nine so expect huge per-venue averages for both of those titles. Not interested in quality? Lucky for you, "The Slammin' Salmon" also opens on 11 screens and there's still "Transylmania" floating around somewhere.
What are you seeing this weekend?