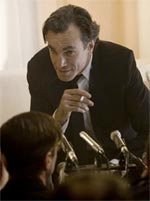 Part of the reason I love Daniel Day-Lewis — aside from the plain evidence of his acting, of course — is that he's one of the few actors these days who maintains a measure of old-fashioned, movie-star mystique.
His gossip-column days of dating and ditching everyone from Julia Roberts to Isabelle Adjani now long behind him, he reveals precisely as much of himself and his process as he's willing to give — which, as this Guardian interview with Xan Brooks proves, is not very much at all. He's clearly playing up his eccentricity and guardedness to a fairly self-indulgent degree, but that's fine by me — I like my movie stars from another planet.
The rarity of Day-Lewis interviews alone makes the piece a must-read — though Brooks barely masks his reservations about "Nine" ("a gorgeous, feathered folly; a turkey that longs to be a flamingo") and, indeed, the actor's performance in it.
I was most amused by this extract, in which Day-Lewis addresses the extreme selectives which has led him to appear in only four films this decade:
It takes a lot to lure Day-Lewis before the cameras, and he confesses that he thought long and hard before agreeing to Nine. "It wasn't a convenient time for me to go back to work," he explains loftily.

I'm not sure whether to be amused or exasperated. Not a convenient time? When did he get to be so picky? "I'm not picky, quite honestly. It's simply that I recognise pretty quickly the stuff that I don't like. And I also recognise the impulse that is dragging me towards a piece of work. And perhaps as you get older, that impulse comes less often." (It strikes me, incidentally, that this is pretty much the dictionary definition of picky).
Day-Lewis continues:
"In all fields of creativity you see the result of work that has become habit. Where the creative impulse has become flaccid or has died out altogether, and yet because it is our work and our life we continue to do it … But I made a personal pledge that I wouldn't work unless I needed to. And you're right, that's a tremendous privilege. But I've always thought that if was a question of paying bills, simple as that, then I would much rather do any work than this."
More here.