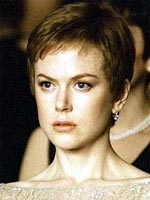 One of my current favorite film writers, Ryan Gilbey, has written an excellent New Statesman piece reflecting on the past decade in film acting. In it, he argues that the 2000s have gone some way towards blurring the definitions of 'star' and 'character actor,' and singling out the achievements of three actors in particular:
Unconsciously or otherwise, [Nicole] Kidman, [Viggo] Mortensen and [Johnny] Depp have insisted that the star can be an instrument of art rather than (or as well as) commerce, like superheroes dedicating their unearthly gifts to the service of good over evil.
This ties neatly into a piece I wrote here recently on the decade's key actors, where I (and a number of you) suggested that Kidman's adventurous straddling of arthouse and commercial instincts put her in the top spot — however hit-and-miss her filmography.
As much as Gilbey admires the work of Mortensen and Depp, however, he feels the decade in screen acting has been dominated by "women on the verge, or in the throes, of a nervous breakdown." By way of illustration, he pairs up two standout performances — Kidman in "Birth" and Charlotte Rampling in "Under the Sand" — for the following observation:
Both Under the Sand and Birth end on a beach with the camera maintaining a vigil as a bereft woman heads towards a future in which nothing, other than dependence on mood-stabilising medication, is certain. Something else connects these films: the pressure on their lead actors to carry in their faces information that can't be articulated in any other form. So, an actor expresses character through performance – big deal, right? But when Kidman, scrutinised by the camera at a Wagner concert, signals in her eyes an emotional breakthrough that is entirely interior, we are witnessing in practice Robert Altman's theory that actors can be auteurs, too – that they can provide an authorial presence in a movie as persuasively as any director.
Aside from nodding my head in complete agreement, there's not much I can add to that. On a side note, I'm thrilled that "Birth" — a startling film in its own right, even aside from showcasing Kidman's finest work to date — seems increasingly to be in the process of critical rehabilitation after being so unfairly dismissed five years ago. Come back, Jonathan Glazer.