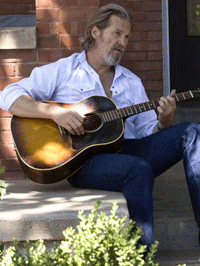 Over the last five months, Gerard has diligently canvassed and re-canvassed the various crafts categories here at In Contention.  The one category we have held back on all this time, as contenders have slowly fallen into place, was Best Original Song.  Today, it's time to dig into the field.
This has turned into something of a banner year for original songs in feature films.  We've had the great pleasure of bringing a number of hopefuls to you via our "listen to" posts, and look forward to continuing that into the new year.  But inevitably, frontrunners are bound to show up, and I think we can successfully narrow the field now.
Before diving in, it's worth reiterating the voting process in this category.  I'll simply let the Academy's rule book speak for itself:
"An original song consists of words and music, both of which are original and written specifically for the motion picture. There must be a clearly audible, intelligible, substantive rendition (not necessarily visually presented) of both lyric and melody, used in the body of the motion picture or as the first music cue in the end credits.
"In the Original Song category, Music Branch members shall meet to screen clips of the eligible songs and vote on the achievements. A DVD copy of the song clips will be made available to those Branch members who are unable to attend the screening and who request it for home viewing. Voting shall be conducted as follows:
"Nominations will be determined by an averaged point system of voting using 10, 9.5, 9, 8.5, 8, 7.5, 7, 6.5 or 6. Only those songs receiving an average score of 8.25 or more shall normally be eligible for nomination. There may not be more than five nominations. If no song receives an average score of 8.25 or more, there will be no nominees. If only one song achieves that score, it and the song receiving the next highest score shall be the two nominees. If two or more songs (up to five) achieve that score, they shall be the nominees.
"Members who attend the song nomination screening will vote at that time. Those who receive the DVD will vote by mail ballot. Those members who have a song in contention for the nomination are not eligible to participate."
With that out of the way, and with the idea that songs used within the context of a film tend to have an advantage explicit, let's proceed.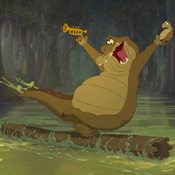 Leading the charge this year would have to be "The Weary Kind," written by Ryan Bingham and T Bone Burnett and featured quite prominently in the film "Crazy Heart." The tune is used in a number of ways throughout the second half of the film, Jeff Bridges's Bad Blake character strumming it on a bed, on his front porch, piecing it together throughout until the big reveal at film's end.
"The Weary Kind" is a beautiful song and, quite frankly, everything this branch wants out of a contender.  I would be shocked if it were omitted.  Fox Searchlight is smartly concentrating campaign efforts on the one song, but there are six other songs eligible from the film as well: "Hold On You," "Somebody Else," "I Don't Know," "Fallin' and Flyin'," "Gone Gone Gone" and "Brand New Angel," all involving Burnett in some way.
Another film boasting a large number of contenders this year is Disney's "The Princess and the Frog." But only four of the eight eligible tracks are being spotlighted by the studio: "Almost There," "Down in New Orleans," "Ma Belle Evangeline" and "Never Knew I Needed."
That last track is the closing credits song from Ne-Yo and is probably the least likely to receive recognition.  "Almost There" and "Ma Belle Evangeline" (performed by Anika Noni Rose and Jim Cummings, respectively) are used in a traditional Disney musical sense and are both quite wonderful, but the theme of the film, if you will, is Dr. John's "Down in New Orleans" (written by Randy Newman, as all tunes on the soundtrack are).  I would say that is the film's best bet, but one of the other two could slide in as well.
The other eligible songs are "Dig a Little Deeper," "Friends on the Other Side," "Gonna Take You There" and "When We're Human."
Movie musicals with original songs are always dangerous here, so to ignore "Cinema Italiano" and "Take It All" from "Nine," both written by Maury Yeston, would be foolish.  The latter is the least out-of-the-blue of the two, organically woven into a dramatic moment.  The former, meanwhile, is a spicy tune with a great dance number to accompany it, so it has some teeth in this race as well.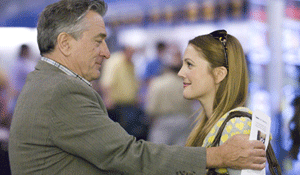 It's always worth keeping an eye on famous musicians in the Best Original Song category, so with that in mind, Mary J. Blige and Paul McCartney are in the fray this year with formidable contenders.
Blige's "I Can See in Color" from "Precious" is a raw piece of work very much in keeping with the film (and used, if briefly, within context).  It could certainly find room.
McCartney's "(I Want To) Come Home" from "Everybody's Fine," meanwhile, might be one of the most accomplished contenders in the field, musically speaking.  It is the first cue on the film's closing credits sequence.
One of the most talked about songs as of late is Leona Lewis's power ballad "I See You" from James Cameron's "Avatar." It is a closing credits song but, having been written in part by composer James Horner, it is an extension of the melodies present through the score and, therefore, could find a way in.  It would have been a no-brainer in years past.
Two songs from Lone Scherfig's "An Education" are in the race, but it's probably Beth Rowley's "You've Got Me Wrapped Around Your Little Finger" rather than Duffy's "Smoke Without Fire" that you should keep an eye on.  Both are breathy, beautiful tracks that suit the film quite well.
U2 offers up "Winter" in Jim Sheridan's "Brothers," the band's third original contribution to a film to date.  The only time they've received a nomination was for "The Hands That Built America" from Martin Scorsese's "Gangs of New York."  "Winter" is as below-par as that song and is a closing credits track, so it could have some trouble.
Finally, there are a pair of songs Warner Bros. is pushing for "Where the Wild Things Are." "Hideaway" is not as prominent as "All is Love," however, so if Karen O and the Kids are going to find recognition, I'd expect it to be for the latter.
You can keep an eye on all the year's hopefuls in the Contenders section, as always.  But for now, this is how I see things shaking out.  Next week we continue our Tech Support interview series.
What are your thoughts on the race for Best Original Song?  Have your say in the comments section below!