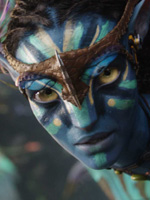 Today is the real "Avatar Day."
Later tonight at the Chinese theater in Hollywood, James Cameron's heavily anticipated opus finally goes before discerning critical eye.  (It will be doing the same momentarily in London for junket press.)  The project has been percolating for a decade.  Months of tangible hype began at Comic-Con in July when fans and press were dazzled by a half hour of 3D footage.  The marketing has reached a fever pitch.  TV spots are ubiquitous.  It's time to hold 'em or fold 'em.  The gambling's done.
Can any film hold up under this pressure?  I have that weird feeling in my stomach, where it seems like something is teetering on the edge, set to fall one way or the other.  And honest to God — I have no idea which way this thing is going to fall.
I hope knives aren't being sharpened.  I'm not in the tank or a Cameron fanboy or what have you.  But I am very intrigued by a guy rolling in money using it to push something forward, forcibly, and it's impossible not to have that hair-raising sense of excitement at a cinematic milestone like this.  And win, lose or draw, the unveiling of "Avatar" is indeed going to be a milestone.
Or will it?  How much of a messiah do people really expect a film to be?  How much of a giant leap forward can honestly be taken by one film?  The history of cinema is one of slow progress more so than drastic shifts in philosophy or approach.  So I hope no one is going in there expecting to be fellated, but it can be difficult to taper the anticipations of the hordes.
We'll know in, oh, 12 hours.  Reviews are embargoed until December 18 but I imagine word will seep out sooner rather than later.
But hey, at the end of the day…it's just a movie.  But does anyone out there actually plan on viewing it as such?