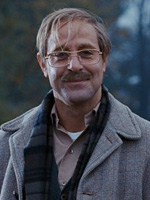 If there's anything you'll take away from Peter Jackson's "The Lovely Bones," it will most certainly be Stanley Tucci's unsettling portrayal of Mr. Harvey, the demented antagonist of the piece and a character that couldn't be further away from Tucci's own disposition.
I spoke to Saoirse Ronan last week and as she puts it, "Every scene I had with Stanley was intense, as you know. It's not going to be happy. I didn't find it as difficult to handle as Stanley did, and I don't mean on a performance level, but just the subject matter. Because he's a father himself and he's just so nice. I enjoyed doing it and I sort of enjoyed being freaked out by this man."  (Watch for that interview shortly.)
But "freaked out" doesn't really begin to cover it. Tucci's performance is as much in the nuance of meticulous villainy as it is in the actions written for him on the page. And to think — he almost didn't do it.  Paramount has been nice enough to offer us an exclusive look at a featurette dedicated to the role and the performance, with thoughts from Tucci and Jackson scattered throughout. Have a look after the jump.