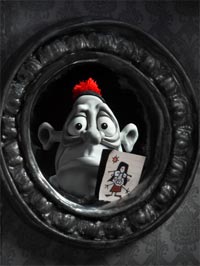 As the year winds down, and critics and entertainment journalists search for neat blanket tags with which to label the year that was, "the year of animation" is a phrase that is getting increasingly bandied about – some going so far as to declare 2009 the greatest year of all time for animated product. (Certainly, TIME magazine has fed that narrative, by naming a trio of 'toons the year's three greatest films.)
It's up for debate whether such talk is a result of extraordinary across-the-board quality, or sheer numbers. Make no mistake, this year has turned up more visible animated titles, in a broader range of artistic formats, than any in recent memory.
Confirmation of this deluge comes in the Academy's official listing of 20 titles in the hunt for the Best Animated Feature Oscar – the largest number since the category's inception in 2001, and one that ensures the first five-strong slate of nominees since 2002.
Of course, 2002, despite the higher-than-usual proportion of contenders, was hardly a banner year for the medium: "Spirited Away" may have taken a well-deserved Oscar, but the amount of filler it had to beat in the process – including such already forgotten snoozes as "Spirit: Stallion of the Cimarron" and "Treasure Planet" – was proof positive that quantity doesn't equal quality in this particular race.
Happily, 2009 looks to offer a rather more credible field of options: from Henry Selick's "Coraline" to Hayao Miyazaki's "Ponyo" to Wes Anderson's "Fantastic Mr. Fox" to Adam Elliot's magnificient "Mary and Max," the year has served up an unusual amount of quirky, even arty, contenders. Provided the Academy isn't persuaded by the global commercial pull of "Ice Age: Dawn of the Dinosaurs" or "Monsters vs. Aliens" (both long shots at best) there's every reason to hope for (and even expect) the category's most broadly acclaimed field to date.
Meanwhile, the near-inevitability of Pixar's breakthrough Best Picture nomination for "Up" (which would make it the second animated contender for the top prize in 82 years of Oscar history) looks set to seal 2009's banner-year status for the medium – even if longstanding rules and formats had to be tweaked to enable such a crossover.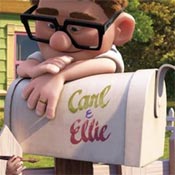 This all sounds marvelously progressive and encouraging on paper … so why am I still feeling so dissatisfied with the state of this particular race? Well, aside from the fact that I'm a hard-to-please bastard (I'm only saying it to spare you the trouble), I'm not convinced that enough of the field's likeliest nominees portend genuine classic status.
"Up" and "Ponyo" have much to recommend them, but both come from stables that have offered finer fillies in years past – and as pleased as I would be to take either over a "Brother Bear" bomb any day of the week, the old adage of good being the enemy of great is hard to shake. "Fantastic Mr. Fox" offers bijou delights aplenty, but I can't help wondering if the film's weak commercial performance can't partly be explained by audiences clocking its storytelling lags less forgivingly than auteur-enraptured critics.
Of course, even I can acknowledge that the field offers up some unadulterated wonders: "Coraline" manages the dazzling feat of playing equally to adult and child audiences with not a hint of smarminess or condescension, trumping its mainstream peers for literary elegance and visual splendor.
And on the artier end of the spectrum, having recently caught up with the starkly stylized, idea-rich Irish wonder that is "The Secret of Kells," I can only state my (astonished) endorsement of the film's recent surprise Annie nod. (Meanwhile, the gorgeous-looking "A Town Called Panic" is a gift I have yet to unwrap.)
The potential depth of the field is somewhat negated, however, by the inevitability of the outcome: can we sincerely call it a vintage Oscar race when "Up" had the award sewn up in June? The generally uncompetitive nature of the Best Animated Feature award (I'd venture that only twice in its eight-year history has there been a genuine contest for the prize) is among the strongest arguments for its cancellation.
This premature narrowing of the field goes beyond the animation-Oscar ghetto, too: amid a host of critically beloved peers, why should Pixar's film be the only animated title in the Best Picture (or Best Screenplay, for that matter) conversation?
It's in the final stages of this article that I'll lay my cards on the table and admit the real (and wholly subjective) reason this issue has been on my mind this week: the fact that the animated film I'd place head and shoulders above any of this year's competitors (yes, even "Coraline") seems to be struggling to make any headway in this race at all.
Adam Elliot's "Mary and Max" is, not to put too fine a point on it, a miracle movie. A raucously funny, exquisitely designed tearjerker with a knockout voice turn by Philip Seymour Hoffman at its center, the film bears some striking narrative parallels to "Up" – most obviously the mutually therapeutic relationship between two misfits across the age divide.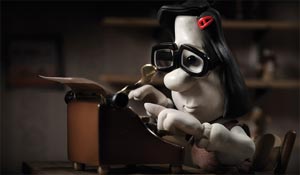 However, the film wades through commendably dangerous thematic waters on its way, touching on issues of sexuality, abuse and mental illness in a disarmingly frank manner. Some have labelled in "adult"; I' prefer to think of it as a challenging family film, one that, in a perfect world, should invite many a searching parent-child conversation after viewing. Its reach is large; its payoff larger.
The film, a scarcely-released (and, if the above description didn't make it clear, wildly eccentric) Australian production, was always going to face an uphill climb towards Oscar consideration, but its disheartening failure to appear in any precursor lists so far (most notably a staggering shut-out in the Annie nominations) suggests that, even in a so-called banner year, the cream might not always rise to the top.
On the other hand, should the Academy use one of its five slots to spotlight an off-the-radar masterwork that could genuinely use the attention, this frequently flat, much-maligned "ghetto category" can prove it has some purpose after all.