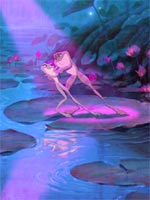 I took Richard Corliss to task yesterday for his uninspired list of the year's Top 10 performances. Fortunately, there's a little more individual thinking (and international flavor) to be found in his TIME list of the year's ten best films — say what you like, but "The Princess and the Frog" is an original pick for the year's best.
Corliss makes an emphatic point by filling his top three with animated titles, while I must commend him for shining a light on "Of Time and the City," Terence Davies' exquisite personal valentine to Liverpool that was my own favorite documentary of 2008.
(On an unrelated note, Miranda Lambert crops up in the magazine's lists for both album and single of the year. So I guess we're cool, TIME.) Corliss's Top 10 below the cut.
1. "The Princess and the Frog"
2. "Up"
3. "Fantastic Mr. Fox"
4. "The Hurt Locker"
5. "Up in the Air"
6. "The White Ribbon"
7. "A Single Man"
8. "Of Time and the City"
9. "District 9"
10. "Thirst"