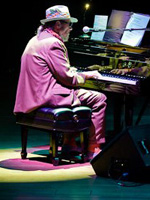 If you take a gander at the Contenders section you'll note that, by far, the film with the most stabs at this year's Best Original Song category is Disney's "The Princess and the Frog." But interestingly enough (and perhaps a smart move), it seems only four of the tracks are receiving a substantial campaign.  We're happy to feature one of them today.
"Down in New Orleans" was written by Randy Newman (along with the rest of the songs and score from the film).  It was performed by blues legend Dr. John and serves as something of a theme track for the film.  It kicks off the festivities early on and has a reprise later int eh film, just before Ne-Yo's "Never Knew I Needed" wraps things up.
In my opinion, this and "Almost There" (which we will feature Friday) are the film's best shots at nominations, based on how they are used in the film.  But at the end of the day, I think we can probably count on seeing a pair of tracks from this traditional animation entry make their way into the line-up.
Have a listen below and tell us what you think.
[display_podcast]