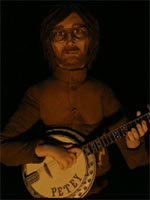 LA Times music critic Todd Martens has posted a useful series of short interviews with the men behind some of the year's most distinctive film scores. Indeed, it's group of five names that isn't too hard to imagine mirroring the year's eventual Oscar slate: Alexandre Desplat for "Fantastic Mr. Fox," Michael Giacchino for "Up," Randy Newman for "The Princess and the Frog," Marvin Hamlisch for "The Informant!" and Elliot Goldenthal for "Public Enemies."
There are nice quotes and musical snippets peppered throughout all the profiles, but I was particularly drawn to read Desplat's take on his "Fox" score, given how curiously — yet happily — the jangly Americana and English folk notes in the work sit with his more Euro-flavored oeuvre:
"I just felt that if we found a sound that would belong to these little puppets, it would make them come alive," Desplat said. "I suggested to Wes that we do a sort of puppet orchestra. I wanted to make everything sound like they were play- ing. I wanted little things — the mandolin, the banjo, the whistle, the recorder and all these little families of instruments. They weren't toys but kind of toy-ish instruments."
I love the wit of Desplat's work, and his sistance to pigeonholing — both musical and cinematic. (I have yet to see "New Moon," but his score for the much-derided film is a thing of beauty. Kudos to Desplat for not reserving his best work for prestige fare.)
It'd be a major injustice if he were denied at least one Oscar nod to mark this most prolific of years for the Frenchman: my favorite Desplat score of 2009 remains the underappreciated "Chéri," but a nomination for "Fantastic Mr. Fox" would be a fitting testament to his versatility.
Sticking with the jauntier sounds of 2009, I also liked Martens's description of Marvin Hamlisch's brashly retro, tongue-in-cheek score for "The Informant!," which marked his return to film composing after a 13-year absence:
From start to finish, Hamlisch's score for "The Informant!" may be the bounciest accompaniment to a film in the composer's storied career, which includes drafting the music for "A Chorus Line," "[The] Sting" and "Bananas," among many others. Loosely tied together with a ragtag jazz sound, Hamlisch's music is, in many ways, the only thing that's honest in the film.

Based on the true story of whistle-blower Mark Whitacre, who was spinning lies and defrauding his own dishonest company all while working for the FBI, Hamlisch's music becomes a character in the film — the one living inside Whitacre's bipolar mind.
You can read all the profiles (plus a talk with Mary J. Blige on her "Precious" song) at the LA Times's Pop & Hiss blog here.