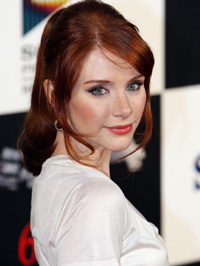 Bryce Dallas Howard dominated M. Night Shyamalan's "The Village" with a beautiful performance of intensity, ferocity, gentle sensitivity and vulnerability.  She made the audience fall almost instantly in love with her character, the blind, though all-seeing Ivy.
With her flowing red locks, warm smile, and imposing gaze, the young actress appears to be to be an old soul in the body of a youth.  And she has fast made a name for herself as a major rising talent.
Talking to an actress on the cusp of greatness is always interesting because in many ways the attitude she brings to interviews will define her to the media.  With Howard, there is no trace of ego at all.  There is, however, an excited young mother eager to discuss her role as a mom, the trials and tribulations of being a mom for the first year, etc.  And, of course, there is the work.
Howard's latest role comes in Jodi Markell's "The Loss of the Teardrop Diamond," from a lost screenplay written by legendary playwright Tennessee Williams. The film is the story of Fisher, a spirited young southern lady, vivacious, exciting to be around, fun loving, and perhaps in love with a young man she convinces to be her escort during the party season of the roaring 1920s.
When an incident occurs that could forever alter their relationship, she is forced to make a decision that will decide which way her life goes, and the manner of woman she will become.
With her lovely red hair dyed dark for the role, Howard handles the role of Fisher with great sensitivity and creates a tragic heroine from the mold Williams made so iconic.  "It was Blanche DuBois that I identified most with when creating Fisher, and I had a really hard time at the beginning finding this woman," Howard says.  "But to get to create this role, to be the first to play this part, written by Tennesse Williams, who I believe to have been a genius, was a gift, it was such a gift.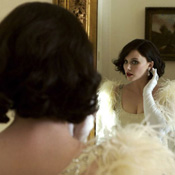 "Williams was able to tap into the psyche of women in a manner most men could not. His understanding of the south is flawless, and his women are so tragic, clinging to a way of life that was slowly slipping away and with it went the identity of these women."
Markel reached out to Howard when she was pregnant, as it turns out, and she says she learned a number of lessons not just as an actor but as a young mother.  Markel balances being a single mom with being an artist.
Getting back to Blanche DuBois, Howard says she wonders whether Fisher could have been the "Streetcar" characters 15 years before she ended up in that apartment with her sister and Stanley Kowalski.  "What happened to her to get her there," she wonders.  "Is Fisher going to make the same errors on her way as Blanche did? Or will she pull her life together and make all the right choices? It was exciting to work through this process."
Howard rather surprisingly says she feels lucky to be working at all, true modesty about her work showing through.  "I mean, I have no strong innate ability as an actor," she says, "but I learn well, and I have had some wonderful teachers along the way. I revel in those chances to work with a director who is going to teach me to grow as an actor, or other actors that will allow me to grow with them. Working with Ellen Burstyn in this film was an extraordinary experience, and Ann Margaret as well, so if I have a strength it is as a great learner and a willingness to learn."
Howard had a normal upbringing, somewhat surprising considering her father has become an American standard both in front of and behind the camera.  Perhaps it's because Ron Howard grew up in front of America that he did not want his own children going through that, and raised his family far from the bright lights of Hollywood.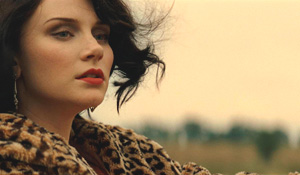 "It was a wonderful childhood," she says with a laugh.  "They were just so great to me and my siblings. When I announced that I wanted to get into acting, Dad sat me down and explained to me the sacrifices that I would have to make, the good, the bad, the fact I may end up just a waitress somewhere waiting for a part to happen, but once the decision had been made, they were so supportive of what I was doing. He was always realistic about what the industry held for him, and I think that trickled down to me."
Howard says she seeks work with great directors.  That is first and foremost in her mind when accepts a role, which has led her to two collaborations with M. Night Shyamalan, one with Lars Von Trier and a small role in a summer blockbuster in order to work with Sam Raimi.  And she knew she had to work with Markell from the start, a collaboration that taught the eager pupil a number of lessons.
"I learned some interesting things about myself," Howard says.  "Fisher is unapologetic about anything she does or says, and I am not, in fact I am apologizing all the time. I liked that she was almost hedonistic in her approach to life, and I connected to that side of myself that wants to be fearless.  Also I learned that moving through the making of this film with the many obstacles, I watched Jodi do so with such grace, and I tried to follow her example, to handle whatever life throws at me with that sense of wonderful grace", she says with a slight laugh, "and I hope I continue to do that going forward."