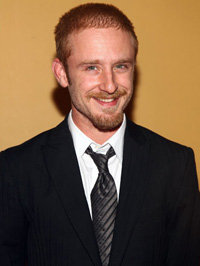 Ben Foster became an actor I knew I would watch for a long time during an episode of the now canceled TV drama "Boston Public."
Foster was cast as a high school student dying of cancer and had an extraordinary monologue about wanting a Christmas with no crying, with no tears; he wanted his last Christmas to be about joy, so he kept the fact that the cancer was no longer in remission from his family.  He had what Pauline Kael called, "Bite you on the nose talent."
In the last few years Foster has slowly been building up a strong filmography that I believe has placed him as one of the most gifted and exciting young actors in American cinema.  Even a role on "My Name is Earl" was electrifying.  With major roles in "Alpha Dog," "3:10 to Yuma" and now "The Messenger," it's a quick cross-section of a talent on the rise.
Many times interviewing young actors on the way up is an exercise in tedium because they can be so full of themselves there is barely room in the same room for us both.  Not so with Foster, a thoroughly engaging, intelligent, brutally honest young man with his head firmly attached.
Films dealing with the wars in Iraq and Afghanistan have not been popular with audiences or critics over the last few years. "In the Valley of Elah" was superb because of the haunting performance from Tommy Lee Jones, and this year Kathryn Bigelow gave us "The Hurt Locker," which is easily among the best films of the year and could see her become the first women to win an Academy Award for Best Director.  So I waded right in: Why this film?
"For me it was less about the military than about humankind, you know what I mean," Foster says.  "You could take the soldier aspect out of this film, and still have a really good story about grief and how we go on after a terrible tragedy, which is of course what the film is about. How do we go on after such loss?  How does a family pick up the pieces after losing a father, mother, brother or sister? I mean, I have not lost anyone close to me through war, but I'll tell you, making this film impacted me in such a way that I cannot look at a soldier the same anymore."
Foster says the script, from first-time director Oren Moverman, came to him through the traditional channels.  What was supposed to be a short meeting with Moverman turned into a six hour marathon meeting and the beginning of a friendship he says he hopes will last him the rest of his life.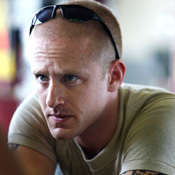 "He is a fine man," Foster says of his director, "a family man, a decent person, a great humanist if you will, and in my opinion, one of the greats working in movies today. He created an environment on set that was just so perfect.  He gave us such a comfort level that we felt like we could do anything, try anything, and it was really something I appreciated from him."
What grabbed Foster in the script was the questions Moverman raised.  "How do you celebrate the life of someone when they go away from us, much earlier than we anticipated," he asks.  "I mean, we have to, of course.  We have to move on.  But how do we do it as human beings? What in us allows us to move past a loss with that great an impact? Some people never do, of course, but others do, and that's what grabbed me most about the story and what he was trying to say with this film."
The young actor and co-star Woody Harrelson met on the way to Walter Reed Hospital to interview and speak with soldiers and their families.  The trip was meant to prepare them for their roles as casualty notification officers in the film.
"That experience was quite extraordinary for both of us I think," Foster says.  "In fact, for me, it looms forever as a life-altering experience. Talking to them, listening to their stories, I found that it really affected in a way I did not think it would."
Casualty notification is obviously a difficult job, and the two officers see an array of reactions from the families whose lives they change forever over the course of the film. Some crumble in agony, others slap the soldiers delivering the news, some spit upon them, others want to speak to them in hopes they have news that their son or father or mother or sister died without suffering.
But there is a sickeningly clinical procedure: Go to the door, deliver the news, leave.  As Harrelson has conveyed in this space, Moverman chose not to do rehearsals in order to create the rawest circumstances possible.
"This was something Oren did to, I think, capture a greater degree of realism for these sequences in the film," Foster says.  "He encouraged us to go off book, to improvise dialogue or reactions, and again, it was creating that comfortable environment for his actors.  That, I think, is the hallmark of a great director."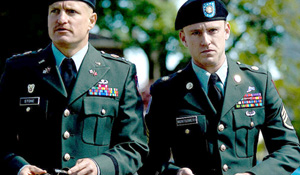 Finding that truth in the characters Foster plays can sometimes be a difficult job.  His performance as Jake Mazursky in "Alpha Dog" is wildly energetic, almost over the top, though Foster never loses control, catching himself before stepping over that line. During the shoot he used drops for glaucoma in his eyes to achieve that red, dead-eyed look, and found that the drugs impacted his vision and ability to see on set. So is he hardcore method? How far will he go for the truth?
"You know, that is a really great question, and we can get lost in a philosophical discussion about the truth in acting," he says.  "What is the truth? What is the truth for this character? As long as I am connecting with the other actors and the role is connecting with me, I think I am on the right track. My attitude has always been go as far as you want as long as you are feeling it. That works for me, that allows me to find my truth in the role.
"You meet a lot of people making movies, a lot of specialists, and for me that helps me achieve my particular truth. On the western I did, '3:10 to Yuma,' I had the pleasure to meet and work with real cowboys, I mean guys who have been doing this their whole life. I had never ridden a horse before, so I was taught by guys who had been riding since childhood, and these lessons taught by these people are what allow me to find the truth in my characters.
"Listening to the soldiers tell their stories, both about the war and about their dedication to this country helped me find the character I play in 'The Messengers,' and then you work with the director to get it right.  At the end of it all, you just hope you honor the story and the men and women the film is about. That is important to me."
This particular day, Foster's co-star Woody Harrelson has won the Best Supporting Actor Award from the National Board of Review, and there has been Oscar talk swirling around both performances. I ask Foster what he thinks of that, and would he welcome an Oscar nomination.
"Wow," he exclaims. "Woody won! That's great.  You know, he's a great guy, just a lot of fun to be around. I mean I don't make movies for awards, and in fairness this is the type of film that it's a miracle it was even made in the first place. Any awards or awards talk will bring people to see it, and that's what I really want, for people to see this film, and perhaps gain an understanding of what is really happening with the men and women and their families in the military. To see them as human beings and not people in uniform, to understand their loss, their grief and their sense of loss. To better appreciate how they get back to life after such a devastating loss.
"I learned so much humility making this film, to take a back seat to the characters we were inhabiting. Hopefully people get to see the film and understand what we were trying to say."