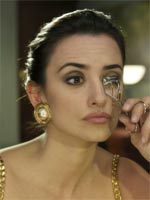 Any regular Oscar-watcher is familiar with the finicky rules and regulations that, year in and year out, keep some of the year's most talked-about foreign-language titles from contending for the Oscar.
Happily, the Golden Globes have fewer restrictions — unlike AMPAS, they permit more than one film per country in the competition, and don't rely on the official submissions of the countries themselves. The result is a larger, more inclusive field of contenders for the Best Foreign Language Film award, as demonstrated by this longlist of Globe contenders (courtesy of Screen International).
At 69 titles, it's only 4 titles longer than the Academy's list, but the real difference lies in the number of high-profile films in contention. For example, while France's profilic industry is only represented by "A Prophet" for the Oscars, the Globes allow such titles as "Coco Before Chanel," "The Girl on the Train" and Jean-Pierre Jeunet's "Micmacs" to join it in the race.
Other major titles on the Globe list that were denied Oscar consideration (controversially so, in some cases) include Spain's "Broken Embraces," Italy's "Vincere," Chile's "The Maid," China's "City of Life and Death," Israel's "Lebanon," Korea's "Thirst," Sweden's "The Girl With the Dragon Tattoo" and Algeria's "London River," whose proportion of English dialogue cost it a place in the Oscar race.
It'll be interesting to see how many of these show up in the final five. As it stands, the longlist is a bothersome reminder of the still-prevalent flaws in the Academy's system. Full list below.
About Elly (Iran)
Ajami (Israel)
Baaria (Italy)
Backyard (Mexico)
Broken Embraces (Spain)
Broken Promise (Slovak Republic)
Can Not Live Without You (Taiwan)
Cell 211 (Spain)
Chameleon (Hungary)
Chandni Chowk To China (India)
Chilango Chronicles (Mexico)
City Of Life And Death (China)
Coco Before Chanel (France)
The Dancer And The Thief (Spain)
Dawson, Island 10 (Chile)
A Day At The Museum (France)
Delhi-6 (India)
Donkey (Croatia)
Eden Is West (France)
For a Moment, Freedom (Austria/France)
I Galantuomini (Italy)
The Girl On The Train (France)
The Girl With The Dragon Tattoo (Sweden)
God's Offices (France/Belgium)
Grandpa Is Dead (Philippines)
Grown Ups (France/Sweden)
Harishchandrachi Factory (India)
Hello Goodbye (France/Israel/Italy)
Hipsters (Russia)
I Killed My Mother (Canada)
I Saw The Sun (Turkey)
Il Grande Sogno (Italy)
John Rabe (Germany)
Lebanon (Israel)
Letters To Father Jacob (Finland)
London River (Algeria)
Louise-Michel (France/Belgium/Luxembourg)
Made In Hungaria (Hungary)
The Maid (Chile)
Max Manus (Norway)
Micmacs (France)
The Misfortunates (Belgium)
Mother (South Korea)
My Queen Karo (Belgium)
Nobody To Watch Over Me (Japan)
Police, Adjective (Romania)
Prank (Hungary)
Prince Of Tears (Hong Kong/Taiwan)
A Prophet (France)
Protektor (Czech Republic)
Queen To Play(France/Germany)
Refractaire (Draft Dodgers) (Luxembourg)
The Reverse (Poland)
The Road From Elephant Pass (Sri Lanka)
Rudo And Cursi (Mexico)
Samson & Delilah (Australia)
The Secret Of Her Eyes (Argentina)
Secrets Of State (France)
Someone I Loved (France/Belgium/Italy)
Southern District (Bolivia)
Terribly Happy (Denmark)
Thirst (South Korea)
Vincere (Italy)
The Waltz (Italy)
Ward No. 6 (Russia)
Welcome (France)
The White Ribbon (Germany)
Winter In Wartime (The Netherlands)
With A Little Help From Myself (France)