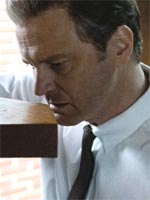 We're currently in that month where precursors do their utmost to reduce a year's worth of cinematic achievement to a small handful of oft-repeated names and titles. It's understandable (if disappointing) when groups or committees compile these identikit lists — but when individuals (and serious critics at that) stick rigidly to the formula, it becomes a little depressing.
This is my way of saying I read Richard Corliss's Time list of the year's Top 10 movie performances and could only say, "Really?" He watched an entire year's worth of films and could only come up with nine heavily-publicized Oscar contenders and one token wacky/stupid/throwaway pick? (That'd be Michael Jackson, if you're interested.)
Make no mistake, there are a number of fine performances here. Colin Firth, Mo'Nique, Jeremy Renner, Christoph Waltz, Carey Mulligan … noteworthy work, make no mistake. I just find it hard to believe that a critic has no personal favorites that deviate slightly from the buzz-determined consensus. I'm not saying he has to pick Tilda Swinton or Tom Hardy or John Malkovich — but he must have noticed some performers that weren't already clocked by everyone else. Why not highlight one of them?
Anyway, here's Corliss's gender-segregated list:
1. Mo'Nique, "Precious"
2. Carey Mulligan, "An Education"
3. Saoirse Ronan, "The Lovely Bones"
4. Meryl Streep, "Julie & Julia"
5. Marion Cotillard, "Nine"
1. Colin Firth, "A Single Man"
2. Jeremy Renner, "The Hurt Locker"
3. George Clooney, "Up in the Air"
4. Christoph Waltz, "Inglourious Basterds"
5. Michael Jackson, "This Is It"
Finally, here's Corliss on my personal favorite performance of the ten:
He's been assigned to head a bomb-defusing squad in Baghdad, c. 2005, and his new mates, whose last leader got blown to bits, don't care at all for James's go-it-alone style. But they can't help be awed by his bravado. Before checking one car suspected of being loaded with IEDs, he removes his protective hazmat suit, saying, "If I'm gonna die, I'm gonna be comfortable." Renner, who took supporting roles in North Country, 28 Weeks Later and The Assassination of Jesse James by the Coward Robert Ford, and co-starred in the recent ABC series The Unusuals, isn't the standard, steel-jawed action-movie hero; he has the soft, unremarkable features of any good ol' boy. That's the surprise of superior acting, for Renner gives his character the cool aplomb and attention to detail of a great athlete, or a master psychopath, maybe both. Like James, Renner is the right man for a tough job.