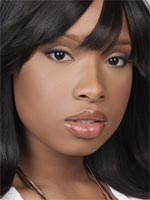 While South Africa's currently high Hollywood profile is putting smiles on the faces (and much-needed cash in the pockets) of many figures in the country's film industry, it appears that not all local actors are as pleased.
The Guardian reports that a number of prominent local thesps have spoken out against the casting of bankable American stars in plum South African parts — most notably Morgan Freeman as Nelson Mandela in "Invictus," and Jennifer Hudson as his ex-wife Winnie in a separate biopic:
Oupa Lebogo, general secretary of the CWU [Creative Workers' Union], said of Hudson's casting, announced last month: "This decision must be reversed, it must be stopped now. If the matter doesn't come up for discussion, we will push for a moratorium to be placed on the film being cast in South Africa. We are being undermined, there is no respect at all … We can't allow this to happen. We have people who can play the role far better than Jennifer."

The award-winning actor John Kani said Freeman had asked him how he felt about an African-African playing the former president. He said he understood the economics but lamented the fact that "I wasn't even asked".
(I omit the quote where actress Florence Masebe laments the fact that Hudson is playing "the mother of our nation," because anyone who regards Winnie Madikizela-Mandela as such shouldn't be taken seriously.)
It's hardly a new complaint: heckles were raised when Juliette Binoche was cast in "Country of My Skull," James Earl Jones in "Cry, the Beloved Country," Whoopi Goldberg in "Sarafina!" and so on. And as I said when I reported on Hudson's casting, I sympathize to an extent with such concerns: a gifted South African actress like Leleti Khumalo would do at least as fine a job as Hudson in the part, and deserves such an opportunity to shine.
But in the real world, Hollywood productions inevitably need star names to get off the ground — and it's probably better that these stories get told with international involvement than not at all.
For what irks me most about such whinging is the passivity on display. The existence of a Hollywood-made Mandela biopic doesn't immediately cancel the possibility of a South African take on a story with local talent at the forefront — but it's idle to blame Hollywood for South African producers' lack of initiative in this regard.
Of course, one can point to the success of "District 9," with its all-South African cast and untested leading man, to suggest that star casting isn't essential to crossover success — though that film had a tight story hook and Peter Jackson's name on the poster to pull in the punters.
I'm reminded of something South African actress Jessica Haines, whom I interviewed the other day about her role in "Disgrace," said about the film's international casting — which left her as the film's only South African principal, amid American, Australian and French co-stars. "Of course they needed John [Malkovich] to secure financing," she said pragmatically, "but their first concern was getting the best actors they could find — South African, American, whatever. And John is one of the best."
Let's hope Jennifer Hudson's eventual performance merits a similarly practical response.