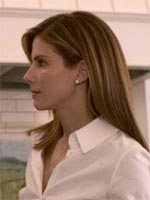 The progression of "The Blind Side" from sleeper success to bona fide box-office phenomenon has cemented Sandra Bullock's place in the Best Actress discussion. I don't know if she'll actually get a nomination — at this early stage, I'm guessing not — but in a tight race for the fifth spot, she's currently one of the feistiest outside contenders.
Having not seen "The Blind Side" yet, I can't say whether I'm okay with this or not. (She'll have to be very good to justifiably deprive Abbie Cornish of a nod, that much I know.) But as more pundits speculate that Bullock might be in line for one of those "paid her dues" nominations the Academy sometimes hands popular entertainers for attempting more gravitas than usual, I find myself wondering: why now?
Where was this groundswell of support for Bullock four years ago, when she gave a strong, against-type performance in a film the Academy plainly loved?
I'm no fan of "Crash," to put it politely. But sifting through the hard-working ensemble that is easily the film's greatest asset, I've always thought that Bullock was best in show. Her "I'm angry all the time" speech may be prone to frequent parody among the film's detractors, but that in itself is a testament to the earnest conviction with which she sells the on-the-nose rhetoric. There's really no other way to play such a flat device of a character; Bullock pulls it off.
When I saw "Crash" in the summer of 2005, I didn't think the film had any serious Oscar prospects, but I did jot down Bullock's name as an outside possibility for Best Supporting Actress. It seemed to fit as an Oscar narrative: beloved commercial comedienne goes indie-serious, gets industry pat on the back for her trouble. Months later, to my astonishment, the film turned out to be an Oscar frontrunner — while Bullock failed to receive a single mention all season.
This isn't particularly a "she was robbed" gripe — more an expression of surprise. If she could give the right performance in the right film and still get no awards traction, I remember thinking, then she never would.
Turns out I was wrong … again. Interestingly, "The Blind Side" offers her a character with some superficial parallels to the one she payed in "Crash" — broadly, a pampered white homemaker faced with the narrowness and prejudice of her cosseted life — though the new film is less prestigious and less acclaimed.
So what's driving her campaign in "The Blind Side" that wasn't behind "Crash?" Is it the performance itself? Is it the box-office? Or is it just timing?