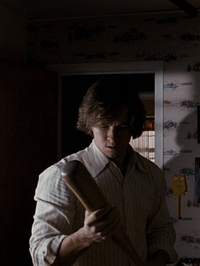 It is true.  The annual Oscar season has forged an epidemic of instant judgment and facile analysis that has become a fairly significant blight on the fraternity of film criticism.
Not everyone is guilty.  In fact, most aren't.  But from where I sit, and speaking solely for myself, the initial quality-assessors of the industry have twisted their roles as measured, considerate analysts into something resembling auctioneers, barking verdicts and moving to the next thing.  And this time of year, it seems the desire to offer that judgment first has murdered many a season's darling.
This year's victim, as I see it, is Peter Jackson's meticulously crafted masterwork "The Lovely Bones."
As of this writing, I have seen the film four times.  The first occasion left me with a strong desire to keep things to myself.  A few thoughts on Oscar Talk were as much as I was willing to offer.  No, my opinion isn't so sacred that it deserves such handling.  But the film, in my view, is.  And no one who has doled out a viewpoint seems to have been willing to let this film breathe a little before jumping to their conclusions.
Even David Poland's positive video review, posted two days after he saw the film, seemed to reveal someone who didn't quite know how to put into words what he thought and, therefore, probably should have just waited a bit longer before doing so.
The first reactions out of London were so instant that whether they were "yay" or "nay," they couldn't possibly be taken seriously by a discerning reader.  Todd McCarthy's embarrassing follow-up (I'm sure he and his editors were upset that they weren't in print immediately after the London bow) has become the stuff of soft criticism legend, the man stumbling blindly through something that doesn't resemble anything he's reviewed in his however-many-years of doing this, damning Jackson with accusations of "infatuation" with digital effects without understanding how they were being used as a tool toward a specific end.
And yet, Jackson will, and should, do as he pleases.  Because "The Lovely Bones" is the very definition of uncompromising vision.  It is not a film you digest on an initial viewing, and certainly not a viewing that has you considering when your review will go live.  "You have to see it again" is, many times, the most overused excuse there is when it comes to demanding cinema.  But in this case, it is absolutely applicable.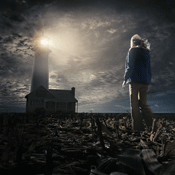 How else will you treat yourself to the dream and Freudian symbolism Jackson has woven, both in plain sight and tucked in dark corners of the frame?  How else will you discover the nuances of his direction, offering a glimpse of the world through a young girl's eyes.  If, for instance, Mark Wahlberg's performance comes off a bit cheesy and strained, it's because a father comes off a bit cheesy and strained to his adolescent daughter.  The same goes for seemingly shallow indications of first love.  What else would you call your first crush?  But at the time, it consumed your world.
More often, it isn't Jackson's handling of the drama that sticks in a critic's craw, it is his unmitigated gall in calling on the greatest visual effects house on the planet to create a world that isn't literal, but is instead a valiant extension of his imagination.
Alice Sebold's work on the page could have yielded any number of boring, sluggish and slavish adaptations.  It is frankly not the most compelling piece of literature as it is.  What it did yield was a cinematic depiction unlike anything you've ever seen.  And when one gets over the stomach-turning notion that there are those who actually would have preferred a more graphic interpretation of Susie Salmon's fate, one comes to understand how absolutely insulting that is to the filmmaker.
What Jackson has done with that specific moment is tip his hat ever so slightly to Robert Enrico's "La rivière du hibou" on the way to a washed-out scene that stands, in my mind, as one of the most amazing sequences of the last decade, something Guillermo Del Toro might have given us, but every bit of it concerned with the emotion of the story, the literal having been, again, obliterated for more compelling, more potent ideas that no one in this industry is attempting to engage.
It is, in my mind (someone admittedly having nothing more than a passing interest of entertainment in "The Lord of the Rings" trilogy), Jackson's finest hour.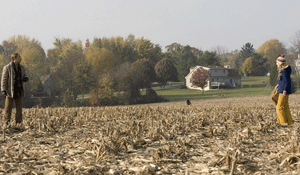 Could I have written that a week ago?  No.  Could I have done it after a second look?  I don't know.  But the more I've lived with this film — coming back to it for intoxicating visceral elements, an unbelievably controlled performance from Stanley Tucci, an equally sublime turn from Saoirse Ronan, the best sound mixing of the year, some of the most arresting photography of the year, etc. — in just a little over a week, mind you, the more I have come to see it for what it is.
And imagine that.  I got my thoughts into print before the film even received its Los Angeles premiere (which is tonight, by the way) and well before release.  No rush.  And this coming from someone who, truth be told, does relish being a part of that early conversation.  But that shouldn't be your guide.  The work you're evaluating should.
There are other factors at play here, of course.  The way Paramount chose to unveil this film, the hide-and-seek nature of the thing, at the end of the day, it breeds a certain…something.  It can't be fully understood, but it's damaging when the film itself isn't the only consideration at hand.
Over the weekend, Sasha Stone offered similar sentiments in her own positive review of the film.  "The Oscar season is where good films go to die," she wrote.  There is some bitterly ironic truth to that.  Especially when you consider the fact that "The Lovely Bones" doesn't fit the mold of typical cinema, let alone typical awards cinema.
And yet there it sits, one of the year's best films, relegated to a swift sizing up and then…on to the next thing.
The Contenders section has been updated and the sidebar predictions groomed.  This will be the last Off the Carpet column until December 28.  Next Monday I'll kick off my own 2009 retrospective, beginning with my top 10 list.  December 21 I will (hopefully) offer up a retrospective on the decade in film.  Until then…take your time.