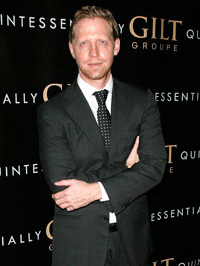 For 17 years, Matt Tyrnauer worked for Vanity Fair writing up profiles of major artists and pop culture figures such as architect Frank Gehry, producer Robert Evans, writer Bret Easton Ellis, actor Greg Kinnear, designer Tommy Hilfiger, Martha Stewart (her post-prison cover story) and legendary designer Valentino Garavani.
That final name has made an impact on his life that will alter the course of his career as an artist, and may just land him an Academy Award nomination for Best Documentary.
Having studied film in college, a life in the cinema was never out of the realm of possibility for Tyrnauer, though his work at Vanity Fair consumed a great deal of his life through the last two decades. When he decided to make a film about Garavani, he did so with an abandon that suggests a fierce passion for his subject and deep belief in what he was doing as an artist.  "Valentino: The Last Emperor" was the result.
The director admits there were times he did not know what he was doing, in particular when it came to distribution, but that flying-by-the-seat-of-the-pants sensation seems to have served this likable young man very well. Confidence in his film, that it was a truthful representation of the inner world of Garavani, would also help him when his subject disliked the film upon first viewing. Garavani ultimately needed the reassurance of a standing ovation at the Venice Film Festival to convince him otherwise.
It began with the actual question being posed to Garavani: Would he participate in a documentary? "He said yes," Tyrnauer remembers, "which really surprised me, but then you have to understand they had very little to lose as the film was self-financed, and I don't think they ever believed anything would ever come of it. So it was easy for them to say yes initially. I don't think they realized exactly what saying yes to a filmmaker entailed, but they were true to their word."
Tyrnauer says that while at Vanity Fair, he always wished he had a camera to capture those moments you just can't bring to life in print. When Garavani agreed to the project, it opened an entire world to the sudden filmmaker.
"Valentino has been world famous for more than 50 years," he says, "and I cannot think of another person who has accomplished that. Elizabeth Taylor maybe, but she has come and gone so many times, while he has not. That sort of fame, this sort of immense wealth does something to one's reality, and Valentino is disconnected from the reality of the real world. His entourage makes it difficult to get to him to begin with, and then he is protected by Giancarlo Giammetti, his partner and lover for many, many years. They are two halves of one person, and without one the other ceases to function."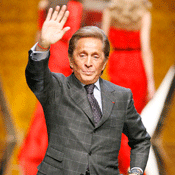 The director moved deep within the inner circle of Garavani's life, exposed to a sort of lifestyle very few people live, a sort of extraordinary wealth that allows the man to do pretty much anything he wants to do. There are no "no" men around. But as Tyrnauer got to know the man — as much as he could as Garavani remains very guarded — he found something curious. For all the money, the stardom, the admiration and ego, Valentino really is a very simple man, old-fashioned in a modern world.
But Tyrnauer did not set out to make a fashion film, and knew after the brutal reception given Robert Altman's "Ready to Wear" in 1994 that fashion films did not do well with audiences.
"Altman is my hero," Tyrnauer says. "I love his work, but of his great films, those with that wonderful Altman signature and style, 'Ready to Wear' is clearly among the weakest works of his career, and if I recall correctly he was very surprised when the press attacked the film and then the fashion industry went after him for it as well. I knew very early when I began making the film I did not want to make a film about the fashion industry.
"I knew fashion would be a part of the film through Valentino, and the world of fashion is a strange place to be even for a short time, very superficial sometimes, but this world, the world inhabited by Valentino was interesting to me because I knew so little, if anything, about it."
What evolved was a remarkable glimpse behind the curtain of immense wealth, at the core, a strong relationship between two men who have been partners for decades. They seem connected by a curious mind meld, knowing each other's thoughts, strengths and weaknesses, totally connected and as in love as a couple can be.
"And you know, it's real," Tyrnauer say. "They are that close when the cameras are not on, they were affectionate, they fight and they adore one another…for real. Valentino does not read email, so Giancarlo would have to call him constantly to read correspondence over the course of the day and night, it's that type of relationship. Again, they are one half of a single person, one doesn't function without the other."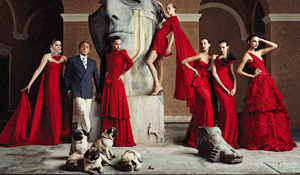 The pair fight often, with extraordinary beauty in the background, sand dunes as props for a show, or the gowns for which Garavani became famous, and they make no secret of their disagreements to all around them. Yet one senses the deep admiration they possess for each other, a mutual respect forged by the empire they have built together.
The fight to get the film made was followed by a war to secure distribution. Tyrnauer listened to the same arguments over and over. Documentaries do not do well, certainly not those with subtitles or concerned with fasion. He then was faced with Garavani's initial response to the film: he hated it.
"He did," chuckles the director. "He really did. And I have to admit I was somewhat taken aback. But luckily I had final cut of the film because there were things he wanted taken out, this and that, and finally when he saw the response at Venice, understanding the impact of the Venice Film Festival, he agreed, that maybe the film was pretty good, which ended up being a relief. I mean we had a signed contract, but we wanted him to be on board with liking the project. They gave me full access to their lives, and I will appreciate that forever."
The film has landed on the short list of potential Academy Award nominees for Documentary Feature, which obviously pleases Tyrnauer, though he is not getting too caught up in Oscar madness just yet. It's not that he is not interested in an Academy Award, it's just that he has not had the chance to really sit down and think about it.
"I'm still seeing to it the film gets seen," he says. "I just don't have time to really think about the Oscars yet. But look, in honesty, of course a nomination would be nice, it would change my life. That said, that's not why I made the film."
With the exceptional critical response, a nomination nevertheless seems possible for this first-time filmmaker who put his passion into the work and made a film despite enormous odds and obstacles. It is a true independent project, enormously involving, engaging and entertaining, and one of the finest documentaries of the last decade.