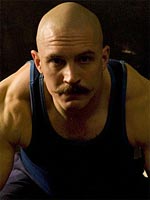 The British Independent Film Awards really spread the wealth this year, with only two films — "Moon" and "Fish Tank" — taking more than one award. In a slightly surprising result, Duncan Jones's sci-fi debut claimed the night's top prize, Best British Independent Film, as well as Best Debut Director honors.
Meanwhile, "Fish Tank," which entered the ceremony with the most nominations, took a well-deserved pair of awards: Best Director for Andrea Arnold (the first woman ever to receive the honor) and Most Promising Newcomer for 18 year-old sensation Katie Jarvis.
Jarvis lost the Best Actress award, however, to Carey Mulligan for "An Education" — one of the night's few winners likely to figure prominently in the awards race across the pond. (This in stark contrast to last year's BIFA awards, which were all about "Slumdog Millionaire.")
In a just world, we'd be saying the same thing about BIFA's choice for Best Actor: the astonishing Tom Hardy in "Bronson." It's sad to see work this dazzling not even entering the Oscar discussion, but at least Hardy gets to take home some hardware for his efforts. (Don't count on BAFTA acknowledging him, after all.)
Below the line, I'm thrilled to see recognition for "Mugabe and the White African" in the documentary category, as well as a technical citation for DP Greig Fraser's ravishing work on "Bright Star."
Not every winner is the one I'd have chosen myself — color me puzzled that Anne Marie-Duff, perfectly good in "Nowhere Boy," beat her film-stealing co-star Kristin Scott Thomas to the Best Supporting Actress award — but it's a solid list of winners, while the generous distribution of prizes bespeaks another strong year for British cinema.
Full list of winners below. (We listed the nominations here.)
Best British Independent Film: "Moon"
Best Director: Andrea Arnold, "Fish Tank"
Best Actor: Tom Hardy, "Bronson"
Best Actress: Carey Mulligan, "An Education"
Best Supporting Actor: John Henshaw, "Looking for Eric"
Best Supporting Actress: Anne-Marie Duff, "Nowhere Boy"
Best Screenplay: Jesse Armstrong, Simon Blackwell, Armando Iannucci and Tony Roche, "In the Loop"
Best Foreign Film: "Let the Right One In"
Best Documentary: "Mugabe and the White African"
Douglas Hickox Award (Best Debut Director): Duncan Jones, "Moon"
Most Promising Newcomer: Katie Jarvis, "Fish Tank"
Best Technical Achievement: Greig Fraser, "Bright Star"
Best Achievement in Production: "Bunny and the Bull"
Raindance Award: "Down Terrace"
Best British Short: Sam Taylor-Wood, "Love You More"
Richard Harris Award (Outstanding Contribution to British Film): Daniel Day-Lewis
Variety Award: Sir Michael Caine
Special Jury Prize: Baz Bamigboye