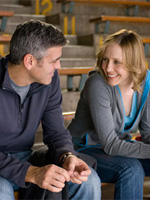 The Washington, D.C. Area Film Critics Association has kicked off the critics' kudos season with a most uninspired list of nominations.  I say uninspired because, aside from a random nomination for Maya Rudolph in the lead actress category, there doesn't seem to be a single damn original bone in the group's body.
"Up in the Air" led the way with 8 nominations and is pretty much on track to be the critics' darling of the year, while "Precious" and "The Hurt Locker" each landed 7 each.  I imagine a similar tally will be attributed to those films when the Oscar nominees are announced.  Which raises the question: Are the D.C. critics trying to emulate AMPAS here?  I never follow them closely, not beyond the requisite announcement posts each year (I tend to get REALLY burned out on all the critics' awards, frankly).
But seriously.  They had to see more than 33 films this year, right?  Because out of 70 possible nominees, that's how many films were spread across the field.  Kind of sad, really.
Check out the full list of nominees after the jump.  And the group's list of winners last year here.
Best Film
"The Hurt Locker"
"Inglourious Basterds"
"Precious"
"Up"
"Up in the Air"
Best Director
Kathryn Bigelow, "The Hurt Locker"
Lee Daniels, "Precious"
Clint Eastwood, "Invictus"
Jason Reitman, "Up in the Air"
Quentin Tarantino, "Inglourious Basterds"
Best Actor
George Clooney, "Up in the Air"
Colin Firth, "A Single Man"
Morgan Freeman, "Invictus"
Viggo MOrtensen, "The Road"
Jeremy Renner, "The Hurt Locker"
Best Actress
Sandra Bullock, "The Blind Side"
Carey Mulligan, "An Education"
Maya Rudolph, "Away We Go"
Gabourey Sidibe, "Precious"
Meryl Streep, "Julie & Julia"
Best Supporting Actor
Woody Harrelson, "The Messenger"
Anthony Mackie, "The Hurt Locker"
Alfred Molina, "An Education"
Stanley Tucci, "The Lovely Bones"
Christoph Waltz, "Inglourious Basterds"
Best Supporting Actress
Vera Farmiga, "Up in the Air"
Anna Kendrick, "Up in the Air"
Mo'Nique, "Precious"
Julianne Moore, "A Single Man"
Samantha Morton, "The Messenger"
Best Adapted Screenplay
"The Blind Side"
"An Education"
"Precious"
"The Road"
"Up in the Air"
Best Original Screenplay
"(500) Days of Summer"
"The Hurt Locker"
"Inglourious Basterds"
"A Serious Man"
"Up"
Best Breakthrough Performance
Anna Kendrick, "Up in the Air"
Christian McKay, "Me and Orson Welles"
Carey Mulligan, "An Education"
Jeremy Renner, The HUrt Locker"
Gabourey Sidibe, "Precious"
Best Animated Film
"Coraline"
"Fantastic Mr. Fox"
"9"
"Ponyo"
"Up"
Best Foreign Film
"Broken Embraces"
"Red Cliff"
"Sin Nombre"
"Summer Hours"
"The White Ribbon"
Best Documentary
"Anvil! The Story of Anvil"
"Capitalism: A Love Story"
"The Cove"
"Food, Inc."
"Good Hair"
Best Art Direction
"The Lovely Bones"
"Nine"
"Star Trek"
"Where the Wild Things Are"
"The Young Victoria"