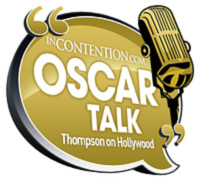 Welcome to a belated edition of Oscar Talk, your weekly kudocast featuring yours truly and Anne Thompson of Thompson on Hollywood.
On the docket today:
• With the National Board of Review having kicked off the awards season, Anne and I discuss the big winners and implications for the season.
• Tis the season and the party circuit is alight, so with that in mind, we talk about a few of the taste-makers around town this week, including…
• Peter Jackson, Saoirse Ronan and Stanley Tucci in an intimate cocktail party for "The Lovely Bones."
• Fox Searchlight's holiday shin-dig in Century City with "Crazy Heart" principals in attendance.
• An "Inglourious Basterds" DVD release party at producer Lawrence Bender's home.
• And a Summit holiday party with the folks from "The Hurt Locker" burning the midnight oil.
• Finally, no reviews of "It's Complicated" are allowed yet, but Anne and I discuss how we think it will fare in the awards race.
Have a listen to this week's podcast below, with a taste of Hans Zimmer's score for "Sherlock Holmes" to start you off. As always, you can subscribe to Oscar Talk via iTunes here.
[display_podcast]