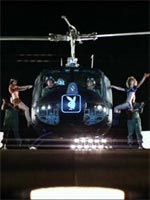 Amid the plethora of "best of the 2000s" lists doing the rounds, the London Film Critics' Circle has decided to go one (or two, rather) better.
Since the end of this decade coincides with the organization's 30th anniversary, they've rather oddly elected five standout films of the last three decades.
Take note that it's not a comprehensive "best films" study. The five titles have been selected from the list of previous top-category winners at their own annual awards ceremony. ("The Wrestler" was their choice this year.)
Anyway, they made the most of their time span, going all the way back to 1979 for their #1 choice: Francis Ford Coppola's "Apocalypse Now." I find it hard to argue with that, personally. Anyway, for all you list junkies out there, their top five is after the cut.
1. "Apocalypse Now"
2. "Schindler's List"
3. "The Lives of Others"
4. "Unforgiven"
5. "Brokeback Mountain"
My fellow Brits sure do love "The Lives of Others," I must say.